U.S. Airstrikes in Syria
Warning
Today, after President Trump ordered U.S. forces to conduct a missile strike in response to the use of chemical weapons in Syria, I wrote to Speaker Ryan to urge him to call the House back into session immediately to debate any decision to place our men and women in uniform in harm's way.
Bashar al-Assad 's chemical weapons attack on his own people places him outside the circle of civilized human behavior.  Assad also continues to attack his own people with conventional weapons.  Meanwhile, Russia props up the Assad regime and enables its brutal war crimes to continue.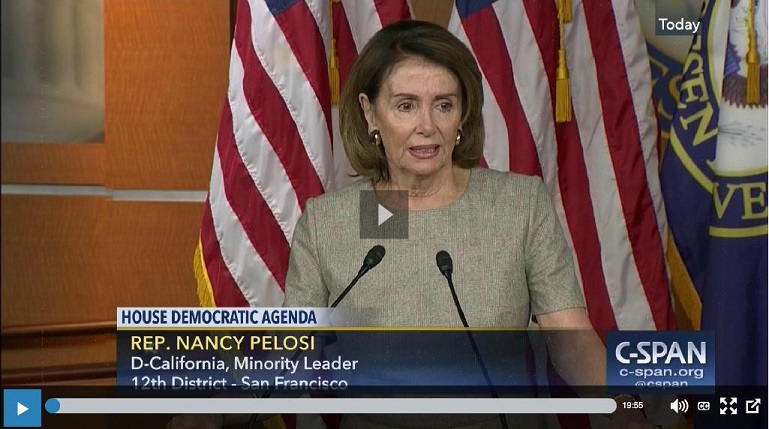 Congresswoman Nancy Pelosi gives her weekly press conference
The President's action and any response demands that Congress immediately do our duty.  Congress must live up to its Constitutional responsibility to debate an Authorization of the Use of Military Force against a sovereign nation.We must have an AUMF which is tailored to meet the threat and prevent another open-ended war in the Middle East.
As heartbreaking as Assad's chemical weapons attacks on his own people were, the crisis in Syria will not be resolved by one night of airstrikes. The killing will not stop without a comprehensive political solution to end the violence. The American people are owed a comprehensive strategy with clear objectives to keep our brave men and women in uniform safe and avoid collateral damage to innocent civilians in Syria.
Extreme Tactics
Yesterday, Senate Republicans moved to the finale of their despicable plot to steal a Supreme Court seat for the special interests. They have resorted to extreme tactics to install an extreme justice with radical views far outside the mainstream of American legal thought.  Beneath his polish, Neil Gorsuch is deeply hostile to women, to children, to the environment, to people with disabilities, and to working families.
The Republican Senate has committed a great crime against justice in our country.  Jamming through a radical, lifetime nominee, they have poisoned every hallowed tradition, standard of decency, and shred of respect for democracy in the Senate.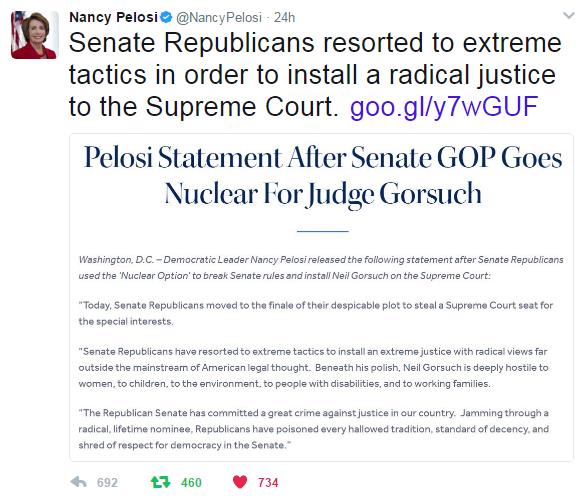 LGBT Workplace Protections
Freedom from discrimination is a fundamental civil right that belongs to every American. The 7th Circuit decision is a resounding victory for LGBT Americans and the right of every person to dignity and opportunity in the workplace.  No one should suffer discrimination because of who they are or who they love — not in the workplace, not in any place. While the GOP has worked to roll back the rights of LGBT Americans, and the Trump Administration has abandoned transgender students, Democrats will continue to demand full equality for LGBT families.
 

My constituent and his wife, who are both living and working in the United States on H-1B and H4 visas, recently went on a vacation to the Caribbean. While they were outside of the country, they needed to apply for new visa stamps at the U.S. Embassy so that they could return home. However, because my constituent had traveled to Turkey eight years ago for a one week trip, he was informed by the consular officer that it could take up to six months for his visa to be processed, which would have put him and his wife in an extremely difficult situation as they are nationals of different countries and could not return together to either of their home countries to wait for visa issuance, thus threatening their jobs, their livelihoods, and their marriage. My staff contacted the U.S. Embassy conveying the details of my constituents' situation and requesting a review of their cases. After considerable deliberation, they were informed that the visas had been processed and ready for pickup. My constituents can now return to the only home they have known together in San Francisco.

Caseworkers in my San Francisco office work to address any problems or concerns you may have with a federal government agency. To submit a Casework Authorization Form, please visit my website.
Please feel free to forward this information to your family and friends. To learn more about these efforts, to express your views, or to sign up for email updates, please visit my website. I am also on Twitter at http://twitter.com/NancyPelosi.
 


Sincerely,

Member of Congress