Stealing from Children & Seniors
Scammed On Tax Day
On Tax Day, Americans were watching as tax giveaways enriched big corporations and the wealthiest 1 percent at the expense of seniors and working families nationwide. Around the kitchen table, working families aren't seeing what they were promised. Instead, they're seeing that the tax scam has exploded the debt and is now threatening the future of Medicare, Medicaid and Social Security.
The tax scam raises taxes on 86 million middle class families while handing staggering windfalls to Wall Street, pharmaceutical companies, and big corporations shipping American jobs overseas. The tax scam is the perfect showcase of the GOP once again putting their wealthy special interest donors ahead of the working men and women who are the backbone of our country.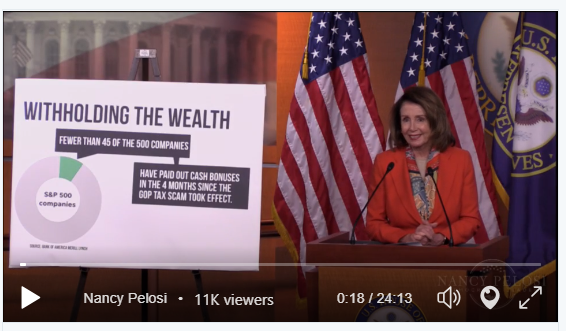 Congresswoman Nancy Pelosi held her weekly press conference to discuss the implications of the tax scam on hardworking Americans.
Tax Day also served as a bitter reminder that President Trump still refuses to show the public his tax returns. Hard-working families deserve to know how their president has padded his own pockets with a tax scam that inflicts such damage on the deficit and the future of Social Security and Medicare. As Trump's cronies in Congress refuse to demand this basic measure of transparency and accountability from President Trump, we must ask: what does President Trump have to hide?
Democrats will continue to fight for real, bipartisan tax reform that creates jobs, reduces the deficit and puts the middle class first with A Better Deal: Better Jobs, Better Wages, Better Future.

A Punishing Way To Pay For Their Tax Scam
On Wednesday, the House Committee on Agriculture passed a Farm Bill proposal by a party line vote. Its sole purpose is to devastate the Americans who rely on the Supplemental Nutrition Assistance Program, or SNAP. After the GOP tax scam's giveaways for the wealthiest, Republicans are slashing tens of billions from SNAP, threatening to leave millions of seniors, veterans, individuals with disabilities, students and families without the means to put food on the table.

This partisan proposal is simply another attempt by the GOP to force American families to foot the bill for their fiscal recklessness. The GOP should be working to create good-paying jobs and strengthen our struggling farm economy for the 16 million men and women of agriculture and the nearly 41 million Americans who are food insecure—including nearly 17,500 households in San Francisco.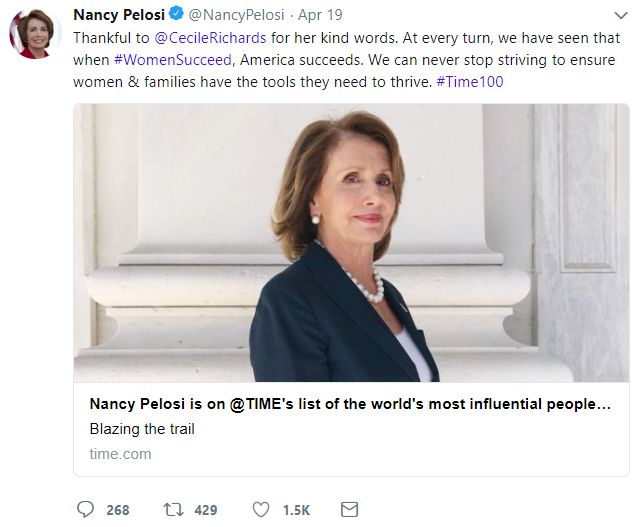 My office recently assisted a constituent who had lost his Medicare Part B benefits from the Social Security Administration (SSA). He had contacted our office because he was unable to reach anyone in the SSA with regards to this matter. He was under the impression that he had missed a payment and did not properly notify the SSA. This issue had put him in a heavy financial and medical burden as well, due to ongoing health problems. Therefore, my staff contacted SSA on his behalf and conveyed the details of his situation. As a result, SSA notified him of the reinstatement of his benefits, which was a result of incorrect direct deposit information. He is now able to receive his Medicare benefits.

Caseworkers in my San Francisco office work to address any problems or concerns you may have with a federal government agency. To submit a Casework Authorization Form, please visit my website.
Please feel free to forward this information to your family and friends. To learn more about these efforts, to express your views, or to sign up for email updates, please visit my website. I am also on Twitter at http://twitter.com/NancyPelosi.
 


Sincerely,

Member of Congress