Saber Rattling
US Bombs ISIS 
Every day, the President gives Congress reason to return and debate the use of force.  The President's escalation in Syria and his saber-rattling on North Korea demand serious and immediate Congressional scrutiny. Speaker Ryan must call Congress back into session for classified briefings and debate.  Congress must do its duty and honor our responsibility to the Constitution.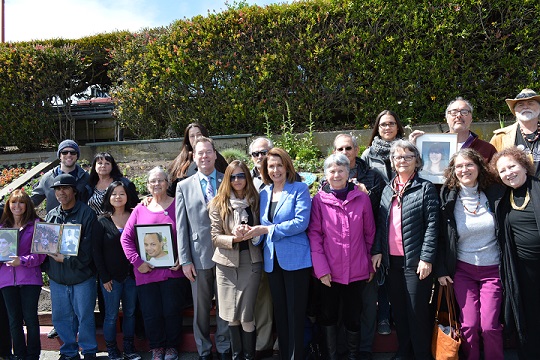 Congresswoman Nancy Pelosi joins families who have lost loved ones to suicides at the Golden Gate Bridge to mark the start of work on a lifesaving suicide barrier.
You Can Not Be Replaced
This week, I joined community members to mark the construction of the new Golden Gate Bridge Suicide Deterrent System. It was a bittersweet day where we experienced the joy of the prospect of saving lives, the sadness of those we have lost. 

The Golden Gate Bridge is a source of immense pride for the San Francisco Bay Area.  But, for far too many families in our community, it has also been a place of pain. Last year, 233 people came to the bridge to harm themselves.  Thanks to the heroic compassion and work of the bridge patrol officers and the men and women who staffed crisis call lines, 184 people were rescued. 

The ceremony marked the beginning of construction on a system that will save countless more lives.  The start of construction of this barrier is an achievement many years in the making.  I am proud to have been part of our Bay Area delegation taking added provisions to the 2014 highway and transit bill that have allowed federal funds to be used for life-saving safety barriers and nets, restored $125 million dollars and pass through federal funding to add this vital protection for our beautiful bridge.  Together, we are ensuring that this magnificent landmark stands as a faithful companion for all San Franciscans and everyone that comes here while inspiring future generations to come but not to identify it in any way with the tragedy that we have identified it with so far.
You're not alone. Confidential help is available for free.
National Suicide Prevention Lifeline: 1-800-273-8255 (TALK) Veterans press 1 to reach specialized support.

   

My constituent recently contacted my office, because his father, a WWII U.S. Navy veteran who was wounded in the line of duty, passed away in the 1970s without having received any of the medals he earned.  My constituent wanted to ensure his 105-year-old mother knows that the United States appreciates her late husband's service.  Unfortunately, when my constituent attempted to obtain his father's military records from the Navy, he was told that the records were now being stored at the National Personnel Records Center (NPRC).  After my constituent reached out to our office for help, my office reached out to the NPRC. The NPRC verified that my constituent's late father was entitled to numerous medals, including the Purple Heart, which my staff presented to my constituent and his mother.  My staff also assisted with obtaining two foreign medals from the Consulate General of the Philippines, which my constituent's father had also been entitled to receive from his service in the Pacific theater.  Now, this military family has tangible recognition of our country's appreciation for their loved one's honorable service.

Caseworkers in my San Francisco office work to address any problems or concerns you may have with a federal government agency. To submit a Casework Authorization Form, please visit my website.
Please feel free to forward this information to your family and friends. To learn more about these efforts, to express your views, or to sign up for email updates, please visit my website. I am also on Twitter at http://twitter.com/NancyPelosi.
 


Sincerely,

Member of Congress