Pruitt Booted
One Down

Environmental Protection Agency Administrator Scott Pruitt has resigned after a tenure marked by corruption, cronyism, and incompetence.  Scott Pruitt's staggering ethical blindness warranted his dismissal many months ago.  His blatant and unprecedented abuses of office and his utter contempt for environmental protections put the health of all Americans in peril.
It is deeply concerning that the President has chosen to elevate a coal lobby kingpin even more focused than his predecessor on advancing the toxic Trump agenda and destroying critical protections for the health and safety of families.  Even with the departure of Pruitt, the Trump Cabinet will remain the most corrupt Administration in history.
President Trump needs to drain his cabinet of his special interest cronies, who every single day are using their powerful positions to enrich themselves and their friends at the expense of hard-working American families' health and economic security.
The American people deserve so much better than the Trump Administration's cabinet of corruption, cronyism and incompetence.  Democrats are offering A Better Deal for Our Democracy to put the power back in the hands of the people and ensure our political system works for everyone, not just the wealthy and well-connected.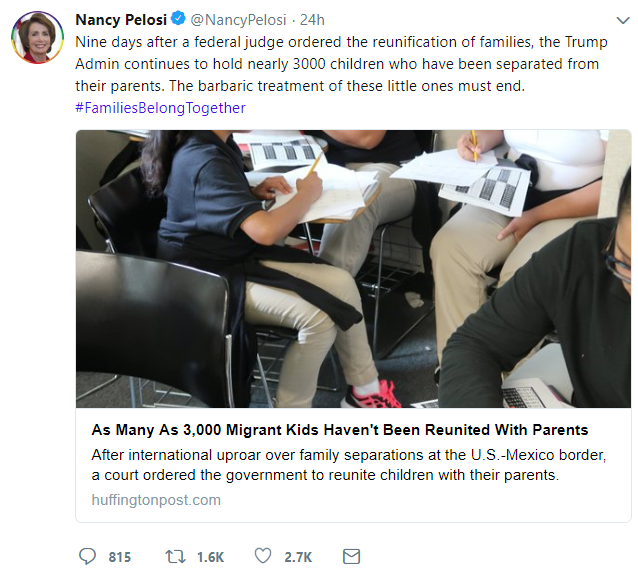 A Strong Net Neutrality Bill 

On Thursday, the California State Legislature secured an agreement to advance the strongest net neutrality bill in the nation.  Once again, California is proudly leading the way to a future in which young people can secure the good-paying jobs of the future and small businesses and entrepreneurs can thrive.
It gives me pride to join with Senator Wiener and net neutrality advocates to reverse the Trump Administration's disastrous, special interest decision to end vital net neutrality protections, and to create the strongest set of net neutrality protections in the nation.  Together, we must ensure that all Californians can enjoy the free and open Internet that is their right.
The rest of the country must now follow California's lead.  State bills like California's are urgently neededuntil House Republicans join Democrats to sign Congressman Doyle's discharge petition to force a vote on his bill to restore net neutrality.
While Republicans stick young people and small businesses with a raw deal, we are fighting to restore these vital protections and are offering A Better Deal to bring the power of the Internet to every neighborhood, school and farm.
My office recently assisted a constituent who had not been receiving his Medicare benefits through the Social Security Administration (SSA). He had contacted our office because he had not been able to reach anyone in his local SSA field office to address the issue. Therefore, my office contacted SSA on his behalf and conveyed the details of his situation. As a result, SSA resumed his benefits starting next month. 
  Caseworkers in my San Francisco office work to address any problems or concerns you may have with a federal government agency. To submit a Casework Authorization Form, please visit my website.
Please feel free to forward this information to your family and friends. To learn more about these efforts, to express your views, or to sign up for email updates, please visit my website. I am also on Twitter at http://twitter.com/NancyPelosi.
 


Sincerely,

Member of Congress