Protecting Our Planet and Our Future
H.R. 9 Climate Bill
This week, House Democrats proudly passed our innovative, thoughtful legislation to confront the climate crisis: H.R. 9: The Climate Action Now Act. This legislation honors the will of the overwhelming majority of the American people, who know that the climate crisis is the existential threat of our time and are demanding swift, strong and smart action now!

This bill takes a bold first step to protect our planet and our future by keeping us in the Paris Agreement, demanding a climate plan from the Administration and laying the foundation for further innovative, effective action from the Congress. It is a meaningful step forward to protect public health, and clean air and clean water for our children; advance our economy and global preeminence in green technology; defend our national security; and honor our moral responsibility to pass on a healthy and sustainable future for our children. 

Guided by the leadership of the Select Committee on the Climate Crisis and the committees of jurisdiction and the energy and vision of our freshmen, Democrats will continue to build on this progress – crafting innovative, effective solutions to combat the crisis.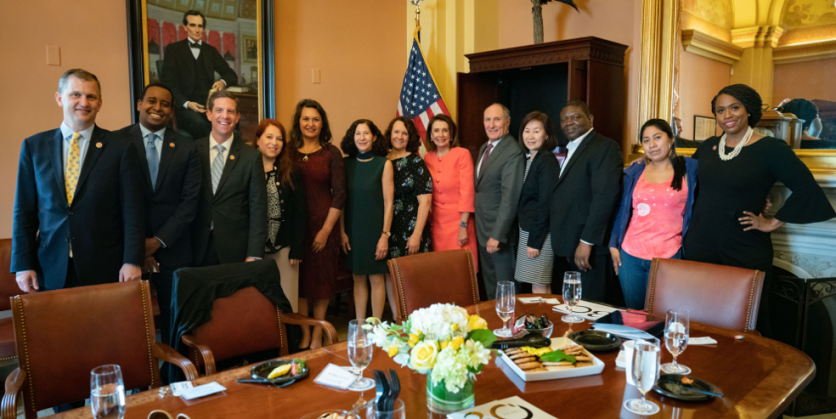 Congresswoman Pelosi met with recipients of this year's Goldman Environmental Prize. This prestigious award honors grassroots environmental heroes from around the globe, who have made sustained and significant efforts to protect the natural environment, often at great personal risk.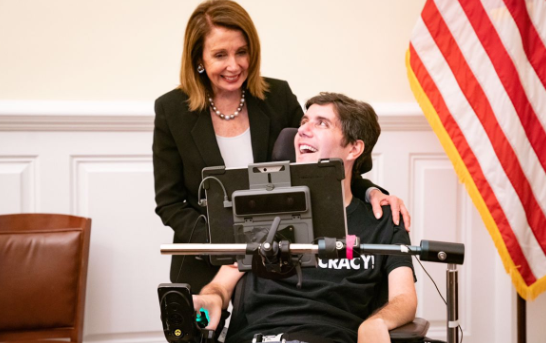 Congresswoman Pelosi met with healthcare activist, Ady Barkan, ahead of Tuesday's #MedicareForAll hearing in the House Rules Committee.
Asian Pacific American Heritage Month 
During Asian Pacific American Heritage Month, we celebrate the rich culture and beautiful diversity that the AAPI community has brought to our country. Throughout our history, Asian Pacific Americans' energy, entrepreneurial spirit, courage and patriotism have strengthened the foundation of our nation and made America more American.

Generations of AAPI men and women endured unspeakable hardships and discrimination, and overcame repeated injustices and indignities. Yet, through it all, they continue to defend and shape our nation with dignity and pride, advancing a freer, more just and equal future for themselves, their children and all Americans. In San Francisco, we are particularly blessed by the vibrant and growing AAPI community that has enriched our city and proven what we have always known, that the beauty is in the mix.

This Asian Pacific American Heritage Month, we express our enduring gratitude for the AAPI community's innumerable and lasting contributions to our nation. To honor them and our promise to advance progress for all Americans, we must rededicate ourselves to protecting our heritage as a nation of immigrants and ensure that all people have the opportunity to pursue their American Dream.

CalFresh for Supplemental Security Income (SSI) Recipients California residents currently receiving Supplemental Security Income (SSI) from the Social Security Administration may now be eligible to receive CalFresh benefits beginning on June 1, 2019. CalFresh can provide up to an additional $192 per individual per month, or more for families, to purchase healthy foods. San Francisco residents can check their eligibility and apply in advance online at www.getcalfresh.org, in person at a San Francisco Human Services Agency center: 1440 Harrison Street, 2 Gough Street, or by phone at 415-558-4700.
A constituent reached out to my office regarding a work visa application for a visiting professor. He reached out because of the long delay in the processing and review of the visa. After helping the constituent submit necessary documents, my staff was able to help the constituent secure a favorable recommendation for the visa.

Caseworkers in my San Francisco office work to address any problems or concerns you may have with a federal government agency. To submit a Casework Authorization Form, please visit my website.
Please feel free to forward this information to your family and friends. To learn more about these efforts, to express your views, or to sign up for email updates, please visit my website. I am also on Twitter at http://twitter.com/NancyPelosi.
 


Sincerely,

Member of Congress