"Mean" and Heartless Trumpcare Bill
At long last, the public can read the Trumpcare discussion draft Republicans have worked so hard to hide from the American people.  The President called the House bill 'mean,' and now we know that Senate Republicans' version is just as heartless and cruel. 
 
The Senate draft proves Trumpcare fundamentally means higher health costs, tens of millions of hard-working Americans losing health coverage, gutting key protections, a crushing age tax, and stealing from Medicare and Medicaid—hurting poor and disabled children. Trumpcare will also inflict vast suffering on veterans, rural communities, seniors, working families, women, and Americans with pre-existing conditions.  Republicans would inflict all this cruelty just to hand hundreds of billions of dollars in tax breaks to big corporations and the wealthy.  

Democrats will fight with all our strength to protect America's families from the moral monstrosity of Trumpcare. Share your story and your concerns about Trumpcare with #ProtectOurCare.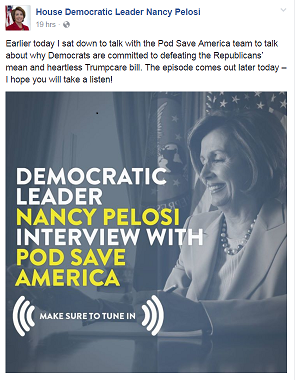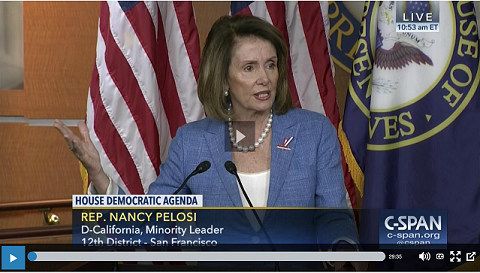 Congresswoman Nancy Pelosi speaks to reporters and took their questions at her weekly press briefing.
Net Neutrality
This week, I sent a letter to FCC Chairman Ajit Pai opposing the FCC's effort to roll back net neutrality.  I also requested a public hearing in San Francisco on the FCC's harmful plan to dismantle consumer protections on the internet.

Dismantling net neutrality will chill competition, hurt consumers, and punish entrepreneurs. Consumers should be able to use the internet on the device they want, using the apps and services they want without their internet provider standing in the way.  I support the current rules because they are in place to protect consumers, and I oppose this Administration's efforts to eliminate them. 

San Francisco is home to many people building apps, web services and internet-connected devices used locally and around the world.  It's also home to many internet users who would be impacted by the Commission's proposal.  It would be my pleasure to invite the chairmen and his colleagues to hold a Public Hearing in San Francisco to hear from my constituents on this important matter.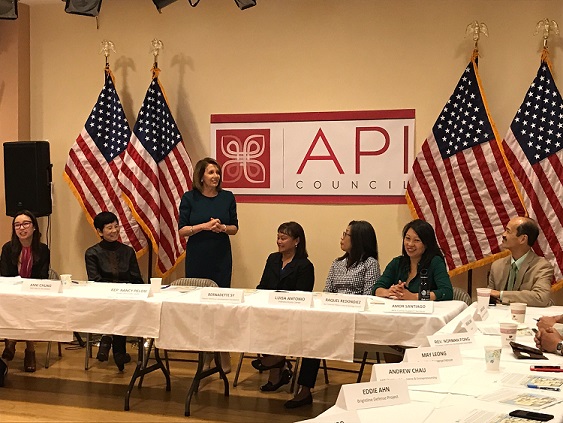 Congresswoman Nancy Pelosi speaks at the Asian Pacific Islander Roundtable Discussion in San Francisco. 
My office recently assisted a constituent who suffers from medical issues related to AIDS. The constituent receives disability benefits from the Social Security Administration (SSA) through the SSI and SSDI programs, which allow him to maintain a modest livelihood. However, his benefits were recently stopped, and he was not provided with an explanation. Through my office's assistance, my constituent was able to meet with an SSA district manager, who was able to obtain documentation from the constituent to recontinue his benefits. Shortly thereafter, SSA resumed my constituent's monthly benefits.

Caseworkers in my San Francisco office work to address any problems or concerns you may have with a federal government agency. To submit a Casework Authorization Form, please visit my website.
Please feel free to forward this information to your family and friends. To learn more about these efforts, to express your views, or to sign up for email updates, please visit my website. I am also on Twitter at http://twitter.com/NancyPelosi.
 


Sincerely,

Member of Congress