Hands Off Our Medicaid!
Reverse Robin Hood
This week House Republicans scrambled and grasped at straws to justify their disastrous Pay More For Less bill, without any hearings or debates. This bill is a moral monstrosity, we know it, they know it, and America knows it. If it passes,nearly 2 million jobs would be lost in the first five years and 24 million Americans will lose their health insurance - 3.6 million in our state alone.
Numbers are eloquent things, and the nonpartisan CBO score makes it crystal clear, this legislation is as grim as it is immoral. Republicans are swindling billions from working families' in order to give more tax breaks to the 400 wealthiest families in America.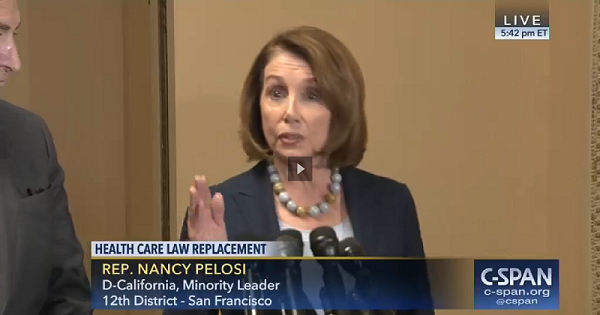 Congresswoman Pelosi calls on House Leaders to pull health care bill in wake of the disastrous Congressional Budget Office cost estimate.
Let us recognize this malicious assault for what it is: a reverse Robin Hood on a massive scale. House Democrats will not stand idly by while the rug is swept out from under working families. We will continue fight actions that prioritize Wall Street pockets over patients.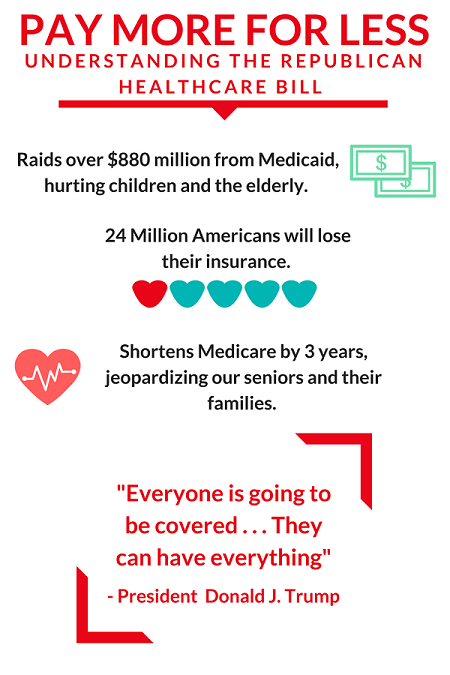 Trump Cuts 
President Trump's budget blueprint is a prescription for America's decline. Ransacking America's investments in jobs and working families will make our nation weaker, not stronger. A multi billion dollar cut to priorities such as education, infrastructure, health and many more, will do far-reaching and long-lasting damage to our ability to meet the needs of the American people and win the jobs of the future.
President Trump just can't stop making it clear he doesn't understand what truly makes American communities strong. He doesn't understand that our communities flourish when they have high quality health care and world class school staffed innovating teachers. He can't wrap his mind around the importance of a protected environment and skills training programs ready to give people a step up into the Middle Class. 
Five weeks into his Administration, President Trump has not introduced a single jobs bill. Democrats will continue to fight for a budget that creates good-paying jobs, grows opportunity, and rebuilds America.
Muslim Ban 2.0

The President blusters that he is strengthening our security, but his Administration's dangerous and brazen prejudice is making America less safe, not more.The ban's blatant discrimination has undermined our fight on terror. The temporary restraining order is another victory for our security, our values and our Constitution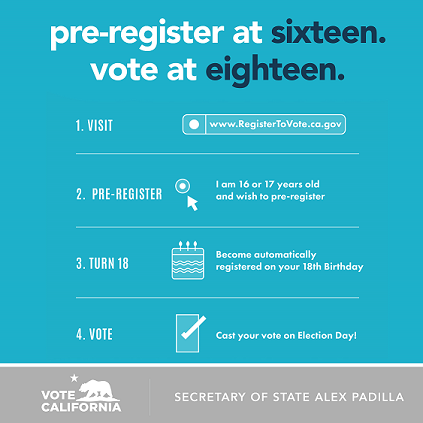 My office was recently contacted by a constituent and her husband who are applicants for political asylum. They have been waiting to be scheduled for their asylum interview, but in the meantime are authorized to work so that they can support themselves. My constituents applied to renew their work authorization with U.S. Citizenship and Immigration Services (USCIS) at the beginning of December, but had not heard back since that time. In February, both of their current work authorization cards expired, which meant they could no longer work, consequently putting their livelihoods in danger. Upon contacting my office, my staff immediately relayed the details of my constituents' situation to USCIS. Shortly thereafter, USCIS approved their new work authorization cards, allowing them to again resume work to support themselves.  

Caseworkers in my San Francisco office work to address any problems or concerns you may have with a federal government agency. To submit a Casework Authorization Form, please visit my website.
Please feel free to forward this information to your family and friends. To learn more about these efforts, to express your views, or to sign up for email updates, please visit my website. I am also on Twitter at http://twitter.com/NancyPelosi.
 


Sincerely,

Member of Congress