From Russia With Love
Protect Our Democracy
As DNI Dan Coats and the U.S. Intelligence Community have made clear: the Russians attacked our elections in 2016, and they are attacking them again now.  Congress must take strong action to secure our elections, but House Republicans continue to refuse to provide a single additional penny to secure our elections.  Instead, they actually brought to the Floor an appropriations package that would eliminate funding for states to protect their election systems.  It is deeply disturbing that the President insists on giving Putin a free pass to continue to attack our elections, and House Republicans have sadly chosen 
Congresswoman Pelosi held a press conference with Members of the House Intelligence Committee in response to President Trump's summit with Vladimir Putin.
President Trump's weakness in front of Putin during his trip to Helsinki was embarrassing, and proves that the Russians have something on the President, personally, financially or politically.  His failure to stand up to Putin constitutes a profound betrayal of the Constitution and our democracy.  President Trump's subsequent attempt to walk back the dangerous, disgraceful and damaging show of his Blame America First policy embarrassed our nation even further.
After watching the President cower in front of Putin, the American people deserve to know what Trump will do now. The President's walk-back creates more questions than answers, and the American people deserve to know whether the President really stands with the American people and our democracy.
House Republicans must put party aside and join Democrats to do what's right to protect our national security and fight for a Better Deal For Our Democracy. On behalf of San Franciscans and all Americans, I will not stop fighting to defend the American people against the foreign attacks that we know are coming.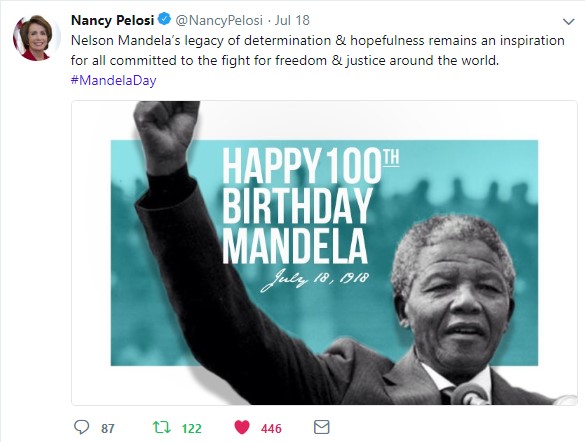 My office recently assisted a constituent who had not been receiving survivors' benefits from the Social Security Administration (SSA). She had contacted our office because she had visited the SSA on numerous occasions without resolving the issue. Therefore, my office contacted SSA on her behalf and conveyed the details of her situation. As a result, SSA reinstated her benefits and provided back pay for the time she did not receive benefits.

Caseworkers in my San Francisco office work to address any problems or concerns you may have with a federal government agency. To submit a Casework Authorization Form, please visit my website.
Please feel free to forward this information to your family and friends. To learn more about these efforts, to express your views, or to sign up for email updates, please visit my website. I am also on Twitter at http://twitter.com/NancyPelosi.
 


Sincerely,

Member of Congress