Easier Taxes? Think Again
Tax Scam For The Rich Targets Californians
Last December, House Republicans passed their disastrous tax scam, ransacking the future of our children and robbing from hard-working families to further enrich big corporations and the wealthiest 1 percent. Every day, their dishonest tax scam message collapses further in the eyes of families, who are watching as the wealthy and well-connected hoard their massive windfalls. Wealthy corporations are shipping American jobs overseas and are on track to spend $1 trillion to enrich their shareholders and CEOs, Big Pharma is hiking prescription drug prices on seniors and families and Wall Street is raking in billions – while just 4 percent of American workers have seen any kind of bonus or wage increase from the tax scam.
Congresswoman Pelosi joined Jonathan Capehart on AMJOY to discuss the Democratic agenda for the future and the disastrous Republican raw deal.
The tax bill is particularly devastating for Californians, who are taking the hit after the bill dismantled the state and local tax deduction that millions of families across our state have come to rely on. According to the IRS, more than 6 million Californian households claim the state and local tax deduction, claiming an average of more than $18,000. To make matters worse, changes to the tax code tax code mean fewer investments in our neighborhoods and fewer affordable housing units built over the next decade – amid surging demand among families.
Speaker Ryan promised to make the tax code "much simpler," but the tax bill has stuck the American people with a far more convoluted and complicated system.  The IRS is now urging taxpayers to check withholding to avoid tax surprises later and ensuring that people don't overpay when it comes to filing their taxes.  Here are some resources you may need to file your taxes in an easy and timely manner:
The IRS has a Taxpayer Advocate Service that offers free, independent and confidential tax assistance to taxpayers unable to resolve their tax problems through normal channels or individuals experiencing a hardship.  The service helps individual and business taxpayers resolve problems with the IRS.  Visit their website for more information or call (877) 777-4778 or (702) 868-5179.
Tax Casework
If you have specific questions about your tax obligations, I would encourage you to reference the IRS website for publications and other information.  For face-to-face tax help in San Francisco, please contact your IRS Taxpayer Assistance Center below:
San Francisco: 450 Golden Gate Avenue, San Francisco, CA 94102, (415) 553-8990

Hours: Monday-Friday, 8:30 a.m. – 4:30 p.m.
Here to Stay
This week we celebrated six years since the DACA initiative was finally implemented, giving thousands of patriotic, courageous young men and women the opportunity to use their skills and dreams to strengthen and enrich our communities and our country.  These talented young people embody our nation's most sacred values of equality and opportunity, and through their hard-work and determination, make America more American.
Yet, the Trump Administration continues to double down on their hateful, discriminatory, anti-immigrant agenda that terrorizes communities, condemns vulnerable women and children and tears families apart. Instead of listening to the will of the American people who overwhelmingly support DREAMers, the GOP is using these hard-working students, teachers, servicemembers and entrepreneurs as partisan political pawns in their reprehensible attack on our nation's values.
The inspiring young DREAMers and their families are the pride of our nation and they deserve better than the life of fear and constant uncertainty that has been forced upon them. Democrats will never forget that our strength lies in our diversity, and we will continue to stand up against these relentless, shameful attacks on our immigrant heritage. We are committed to fighting For The People as we work to ensure that America remains a beacon of hope, opportunity and freedom for all.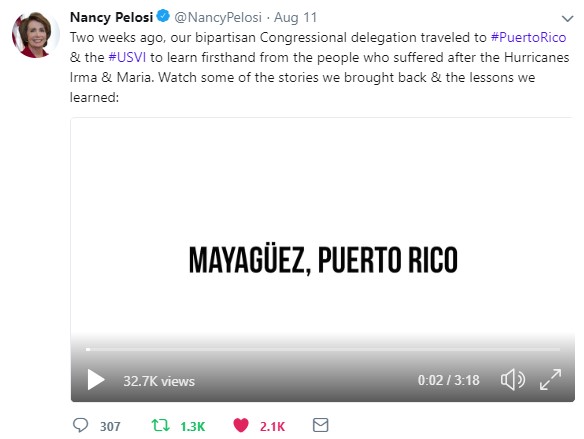 My office recently assisted a constituent who was experiencing an issue with the Social Security Administration (SSA). He had contacted our office regarding a Supplemental Security Income (SSI) overpayment he believed he was incorrectly charged. As a result of this overpayment, he experienced a deduction in his SSI benefits and a suspension of his Medi-Cal insurance, putting him in financial hardship. Therefore, my office reached out to SSA on his behalf and conveyed the details of his situation. As a result, SSA concluded that the overpayment to his record was incorrect and made the appropriate adjustments to his monthly benefit amount.

Caseworkers in my San Francisco office work to address any problems or concerns you may have with a federal government agency. To submit a Casework Authorization Form, please visit my website.
Please feel free to forward this information to your family and friends. To learn more about these efforts, to express your views, or to sign up for email updates, please visit my website. I am also on Twitter at http://twitter.com/NancyPelosi.
 


Sincerely,

Member of Congress