Another Cruelly Broken Trump Promise
Hands Off Our Health Care!
This week, the Trump Administration took its cynical sabotage campaign of Americans' health care to a stunning new low by refusing to uphold the rule of law and defend key provisions in the Affordable Care Act to protect Americans with pre-existing conditions.  Once again, Republicans are trying to perpetuate the same cruel vision of higher costs and less coverage that House Republicans voted for in the monstrosity of Trumpcare.
From day one, this Administration has spitefully worked to undermine affordable health care, and drive up families' premiums.  Millions of Americans are already facing unnecessary premium hikes because of their disastrous tax scam and the efforts to push families into shoddy junk plans.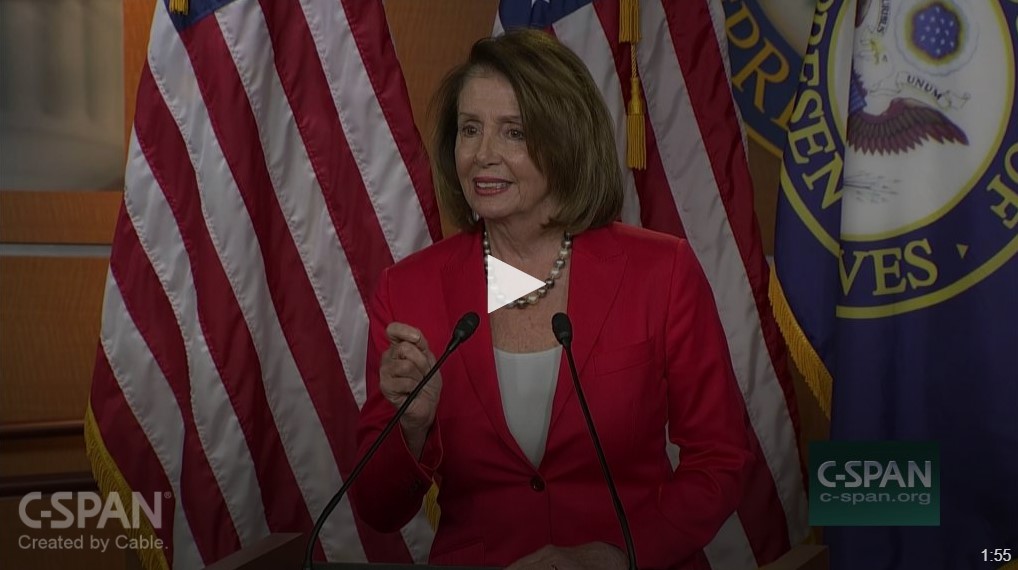 Congresswoman Pelosi held her weekly press conference where she discussed President Trump's attacks on Medicare and Medicaid, Scott Pruitt and the environment, and recent talks on immigration.  
On Tuesday, the Trustees of the Social Security and Medicare trust funds released a report showing that Medicare will become insolvent by 2026, three years earlier than projected, and Social Security will be depleted by 2034, because of the GOP's disastrous health care and tax hike policies.  President Trump promised to defend the promise of Medicare, Medicaid and Social Security, yet he has fought to slash trillions from these pillars of health and security in his budget.  His most recent plan to move seniors' prescriptions from Part B to Part D will further endanger these vital initiatives, while also skyrocketing out-of-pocket costs for some of the sickest people on Medicare.
The American people deserve better than the raw deal Republicans have been forcing on them in health care. Democrats will continue to fight to protect Americans' health care and lower their costs, and are offering A Better Deal to lower the surging costs of prescription drugs.
It's Not About the Cake
With a 7-2 vote, The Supreme Court on Monday ruled in favor of a Colorado baker who had refused to create a wedding cake for a gay couple. The Masterpiece Cakeshop case is about the most fundamental right of all Americans: to be free from persecution and discrimination because of who they are or whom they love.  While narrowly framed to apply to the decision-making process undertaken by the state commission, today's wrongheaded decision fails to uphold equality in this case.
Masterpiece Cakeshop is a commercial bakery open to the public, and such services clearly must be made available to the public on equal terms as determined by an independent review by the Colorado Court of Appeals which should have been upheld.  No business or organization open to the public should hide their discriminatory practices behind the guise of religious liberty. 
Our nation's story is one of ever-expanding freedoms and progress toward a future of equal, full rights for all.  To carry forth that progress, the Congress must immediately move to pass the Equality Act, to remove all doubt that sexual orientation and gender identity warrant fundamental civil rights protections in the workplace and in every place. Democrats will never stop fighting for every American's right to full equality and equal justice under the law.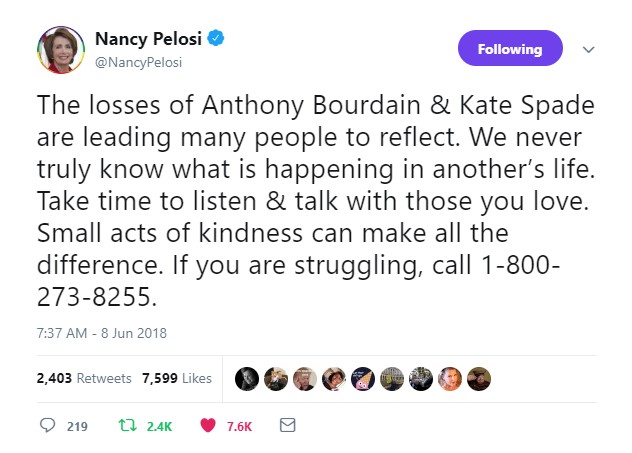 My office recently assisted a constituent who had not been receiving survivors' benefits from the Social Security Administration (SSA). She had contacted our office because she had visited the SSA on numerous occasions without resolving the issue. Therefore, my office contacted SSA on her behalf and conveyed the details of her situation. As a result, SSA reinstated her benefits and provided back pay for the time she did not receive benefits.

Caseworkers in my San Francisco office work to address any problems or concerns you may have with a federal government agency. To submit a Casework Authorization Form, please visit my website.  
Please feel free to forward this information to your family and friends. To learn more about these efforts, to express your views, or to sign up for email updates, please visit my website. I am also on Twitter at http://twitter.com/NancyPelosi.
 


Sincerely,

Member of Congress