'We the Peoples'
United Nations Day
Seventy-one years ago, from the city of the Golden Gate, the word went forward: 'We the Peoples of the United Nations'. A few months after the UN Charter was signed in San Francisco, the United Nations officially came into being on October 24th, 1945.

The United Nations continues to lead in promoting peace and fostering international cooperation. By striving to alleviate poverty, eradicate disease, and mobilize the global community against HIV and AIDS, the UN advances peace, cultivates sustainability and upholds the ideals and visions of the charter members who came together in San Francisco in 1945.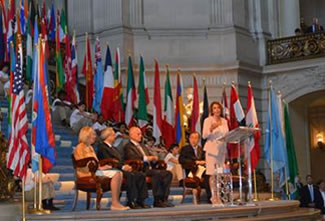 Congresswoman Nancy Pelosi delivers remarks at the 70th Anniversary of the United Nations Charter Commemoration Charter last year alongside UN Secretary-General Ban Ki-moon, Governor Jerry Brown, Mayor Ed Lee and UN Foundation President Kathy Calvin.

More than seven decades after its founding, the United Nations and the ideals of the UN Charter continue to inspire and challenge member nations to fulfill our responsibility to our fellow human beings. On this United Nations Day, let us reflect on the progress we have made and reaffirm our commitment to move us forward on the path to peace.

The Passing of Agar Jaicks
This week, we mourn the passing of a proud San Franciscan and an extraordinary progressive leader. Agar Jaicks embodied the very best of the American spirit. In a distinguished career that spanned more than 50 years, Agar's leadership left our city, our state and our country forever changed for the better.

Agar was a relentless advocate for social and economic justice, and a much beloved and admired leader on the progressive front of San Francisco politics. You could always count on Agar to be an anchor for everyone in trying times, and he never had a bad word to say about anyone. Agar was a deeply principled gentleman, a courageous veteran, and a devoted husband, father and grandfather. My family and I had the privilege of calling him our friend.
 
Nancy Pelosi
@NancyPelosi

---

To follow Congresswoman Pelosi on twitter, please click here

.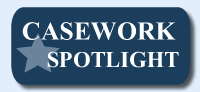 My office recently assisted a local nonprofit organization that hosts musical and dance performance groups from Latin America to perform for audiences in San Francisco as part of a cultural exchange. The organization had filed a petition with U.S. Citizenship and Immigration Services (USCIS) to sponsor a Tango performance group so that it could come to the U.S. to perform. However, because the performance dates were fast approaching and the case had been pending well beyond the normal processing times, the group reached out to my office for assistance. My staff immediately contacted USCIS and conveyed the urgency of the organization's situation. Shortly thereafter, my staff learned that the petition had been approved, which allowed the performers to apply for their visas in person at the U.S. Embassy in their country. The group will soon be performing for audiences here in San Francisco.

Caseworkers in my San Francisco office work to address any problems or concerns you may have with a federal government agency. To submit a Casework Authorization Form, please visit my website. 
Please feel free to forward this information to your family and friends. To learn more about these efforts, to express your views, or to sign up for email updates, please visit my website. I am also on Twitter at http://twitter.com/NancyPelosi.
 


Sincerely,

Member of Congress