Upholding our Oath & the Constitution
Conducting Congressional Oversight 
On Tuesday, the House of Representatives voted for a civil contempt resolution for Attorney General Barr and former White House Counsel Don McGahn to enforce Congress's subpoenas of critical information that matters in the lives of the American people – including but not limited to the findings of the Mueller Report. 

The Mueller Report did not exonerate the President. In his statement, Mueller said: "If we had confidence that the President clearly did not commit a crime, we would have said so." He added that the decision not to indict stemmed directly from the Department of Justice's policy that a sitting President cannot be indicted.  Hundreds of prosecutors from both parties say if any person who was not president did the things Trump was found to have done he would have been indicted for a crime.  The Special Counsel's report:
Revealed that the President's campaign welcomed Russian interference in the election, with more than 175 contacts between campaign officials and the Russians;
Exposed at least ten instances when Trump asked his staff to lie or create false documents to mislead the Mueller investigation and cover up the truth of his actions, and;
Outlined at least eleven instances when Trump tried to obstruct justice by improperly interfering with the investigation himself, in addition to instances of witness tampering.
Democrats will continue to legislate, investigate and litigate to uncover the truth for the American people. Nothing less than the integrity of our democracy is at stake.  As our first act in the Majority, Congress passed H.R. 1, the For The People Act, to strengthen and protect our election systems.  Yet, House Republicans are complicit in Trump's corruption, abuse of power and denigration of the Office of the Presidency – with not one single House Republican voted in support of H.R.1, The For The People Act to strengthen our democracy and shield it from future attacks by foreign adversaries.  Sadly, the Senate has followed suit, with the self-proclaimed "grim reaper" Sen. Mitch McConnell serving as the one-man roadblock. We will not let this stand!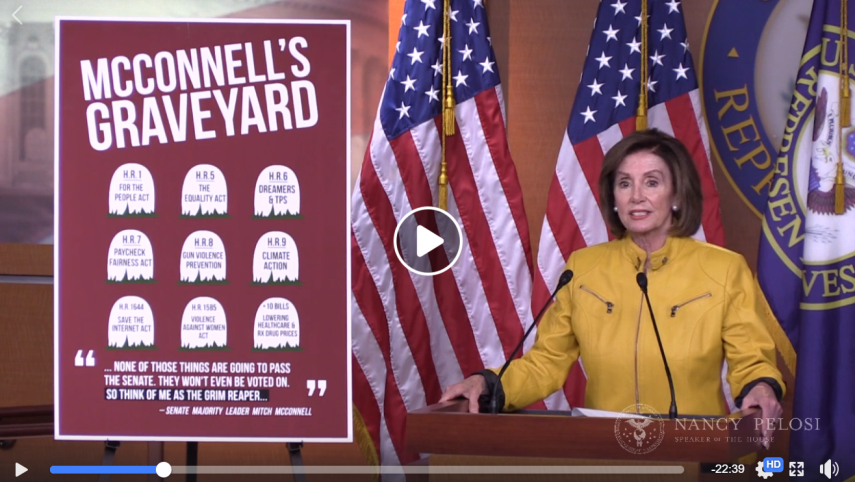 Congresswoman Pelosi speaks at her weekly press conference about Sen. McConnell's stonewalling of bills in the Senate.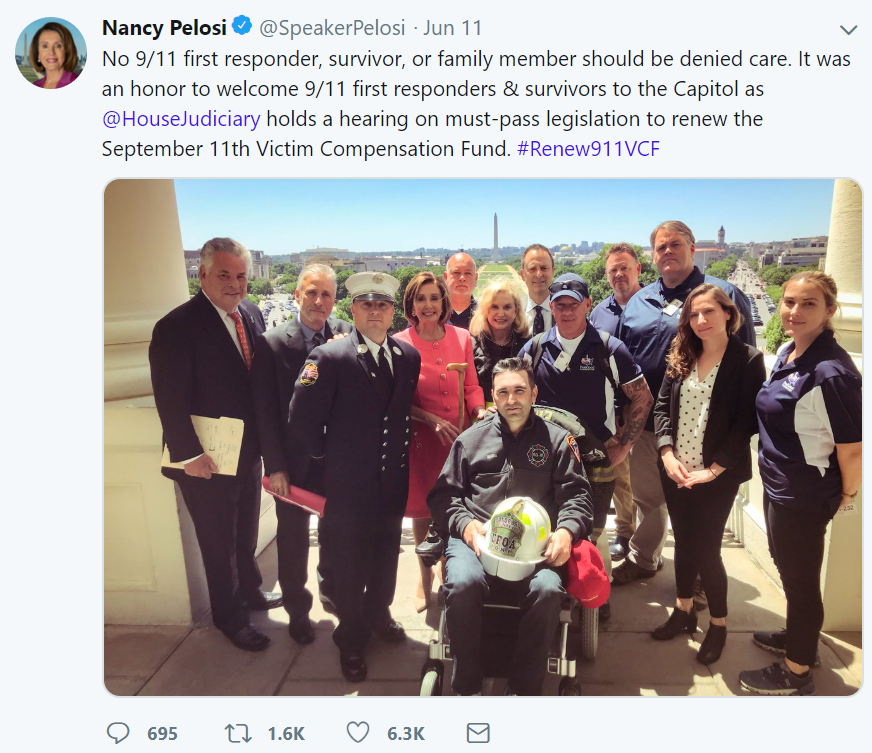 Preserving Democracy, Human Rights, and the Rule of Law in Hong Kong 
Citizens of Hong Kong took to the streets this week to protest a bill that would allow fugitives to be extradited to mainland China. More than one million people participated in the protests on Sunday, and more gathered on Wednesday to protest the debate of said bill by the Legislative Council.

The hearts of all freedom-loving people were moved by the courage of the one million men and women of Hong Kong who took to the streets on Sunday to peacefully demand their rights, defend their sovereignty and denounce this horrific extradition bill.

The China-controlled Legislative Council's proposed extradition bill chillingly showcases Beijing's brazen willingness to trample over the law to silence dissent and stifle the freedoms of the people of Hong Kong.  This legislation would legitimize and legalize the kidnapping of businessmen, booksellers and anyone that China disagrees with, and imperils the safety of the 85,000 Americans living in Hong Kong.  As Martin Lee, the founder of Hong Kong's Democratic Party, recently wrote, this bill 'threatens to destroy Hong Kong's free society.'

The extradition bill imperils the strong U.S.-Hong Kong relationship that has flourished for two decades. If it passes, the Congress has no choice but to reassess whether Hong Kong is 'sufficiently autonomous' under the 'one country, two systems' framework.  We look forward to the introduction of a new bipartisan Hong Kong Human Rights and Democracy Act in the coming days by Senator Rubio, Chairman Jim McGovern and Congressman Chris Smith.

The House stands united with Senator McConnell, the Administration and all who have denounced this dangerous extradition legislation.  America stands with the people of Hong Kong.

  A constituent reached out to my office because he recently lost his citizenship certificate due to a robbery. The constituent needed his citizenship certificate to apply for his passport to visit a sick relative. He contacted my office because he was experiencing long delays in receiving his replacement citizenship certificate through United States Citizenship and Immigration Services (USCIS). My office was able to contact USCIS on his behalf and expedite his replacement citizenship certificate.
Caseworkers in my San Francisco office work to address any problems or concerns you may have with a federal government agency. To submit a Casework Authorization Form, please visit my website.
Please feel free to forward this information to your family and friends. To learn more about these efforts, to express your views, or to sign up for email updates, please visit my website. I am also on Twitter at http://twitter.com/NancyPelosi.
 


Sincerely,

Member of Congress