Unity in the Face of Hatred
No Hate in Our Hearts  
From the start, I have had grave concerns about the public safety hazard the National Park Service would create by permitting a white supremacist rally in the middle of a park for families and children.  I had hoped that the NPS would take a serious look at its capacity to protect the public at Crissy Field.  Instead, the NPS is strangely using public safety as the reason for granting the permit, while placing an inordinate burden on the City's resources for safety.
 
For a long time, our city has been a beacon of peace, openness and love for many people, some of whom faced discrimination elsewhere.  Those experiences are written into the soul of our community and inform our reverence for peaceful dissent and free speech.  However, free speech does not grant the right to yell fire in a crowded theater, incite violence or endanger the public in any venue.  As we ponder where and by whom the ill-conceived decision to approve this permit in a national park was made, we must all pray it does not become an invitation to incite violence. 

This weekend, let us honor the values of love that make our city and our community so extraordinary.  Let us embrace the spirit of our namesake, St. Francis, and the Song of St. Francis that is our city's anthem. 
Lord, make me an instrument of your peace:
Where there is hatred, let me sow love;
Where there is injury, pardon;
Where there is doubt, faith;
Where there is despair, hope;
Where there is darkness, light;
Where there is sadness, joy.
 
O divine Master, grant that I may not so much seek
to be consoled as to console,
to be understood as to understand,
to be loved as to love.
For it is in giving that we receive,
it is in pardoning that we are pardoned,
and it is in dying that we are born to eternal life.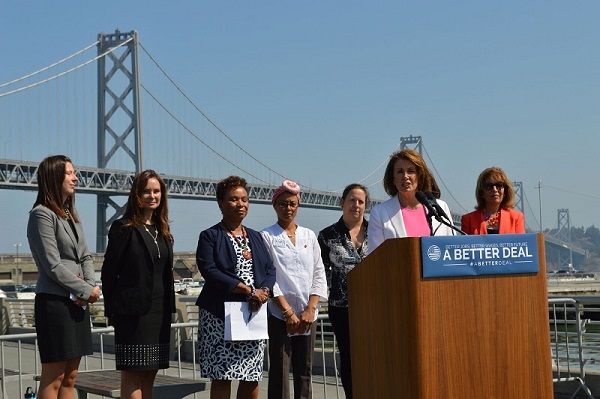 In celebration of Women's Equality Day, Congresswoman Nancy Pelosi and other female leaders held a press conference Tuesday to launch their economic agenda that promises better jobs, wages and future for women in San Francisco.
No to the Immoral, Ineffective, Expensive Wall
This week, President Trump yet again threatened to shut down the government cause chaos in the lives of millions of Americans if he doesn't get his border wall.  Make no mistake: the President said he will deliberately hurt American communities to force American taxpayers to fund an immoral, ineffective and expensive border wall. 
 
The last time Republicans shut down the government, their callous recklessness cost the American economy $24 billion and 120,000 jobs.  With the House, Senate and White House under one party control, Republicans have absolutely no excuses for threatening America's families with a destructive and pointless government shutdown. 
 
Democrats strongly oppose President Trump's multi-billion dollar border wall boondoggle, and will stand fast against this immoral, ineffective border wall and its unacceptable poison pill riders.
                                                                                               My constituent, a foreign graduate of a U.S. university, recently requested my assistance with obtaining his employment authorization card from U.S. Citizenship and Immigration Services (USCIS). Pursuant to his student visa, my constituent is allowed to work for one year post-graduation so that he gains practical experience in the field of his study. Several months ago, he received an approval notice in the mail from USCIS stating that his employment authorization was approved and that he would receive his card in the mail within a month. However, after waiting for a month, he discovered that the card had been returned to USCIS as undeliverable despite the fact that it was sent to the same address as the approval notice. Complicating matters, my constituent was to start his new job the following week. Upon learning of the situation, my staff immediately contacted USCIS on my constituent's behalf and was able to have his card resent to him. My constituent was able to begin his new job as planned. 

Caseworkers in my San Francisco office work to address any problems or concerns you may have with a federal government agency. To submit a Casework Authorization Form, please visit my website.
Please feel free to forward this information to your family and friends. To learn more about these efforts, to express your views, or to sign up for email updates, please visit my website. I am also on Twitter at http://twitter.com/NancyPelosi.
 


Sincerely,

Member of Congress