Trumped Up Tax Scam
Trump Tax
Last Wednesday, Bay Area health care, anti-hunger, seniors' rights and affordable housing advocates gathered at the George W. Davis Senior Center in San Francisco to speak out against the terrible consequences of the Trump Tax Scam and the Trump Budget. The Tax Scam betrays families by giving 83 percent of the benefits to the wealthiest 1 percent and raising taxes on nearly 2 million California families this year. It will also add trillions to the debt, which Republicans are already using as a cynical excuse to gut health, nutrition and housing assistance initiatives for working families. Even worse, they are compounding the cruelty for families with their Trump Budget, which breaks the President's promises not to cut Medicare, Medicaid and Social Security, and also guts vital housing initiatives for working families and people living with disabilities or serious illnesses.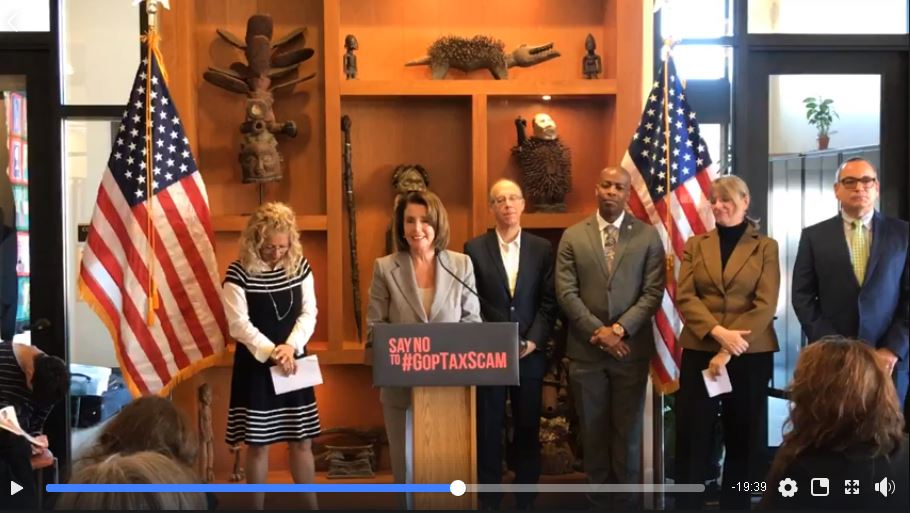 Congresswoman Nancy Pelosi holds a press conference in San Francisco where she discusses the consequences of the Tax Scam, which will be felt by Americans in communities nationwide
Tipping Point
This week, the children of Parkland, Florida are speaking out to demand an end to the daily epidemic of gun violence that is tearing apart our families and communities. Their eloquence and passion are inspiring Americans across the country to call on Congress take action. Democrats in Congress are demanding a vote on a bill to improve background checks for those hoping to purchase a gun. We are also calling on leaders across the aisle to help lift the ban on the Centers for Disease Control, which currently prevents them from studying gun violence. Yet, Speaker Ryan and Leader McConnell refuse to even consider any of these critical issues.  
Polls show that 97% of Americans support background checks for all gun buyers. It is long past time to move beyond thoughts and prayers, and to listen to the will of the American people and ensure that no family must ever undergo the heartbreak of gun violence.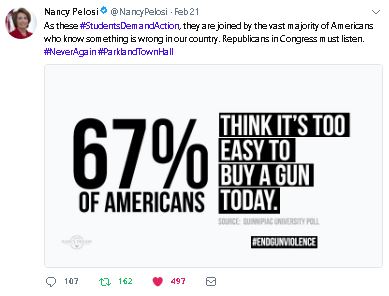 My office assisted a constituent who had not been receiving mail to her apartment from the United States Postal Service (USPS).  She had contacted our office because she was unable to receive a response from USPS.  Therefore, my office contacted them on her behalf and conveyed the details of her situation.  As a result, her local post office had found her mail and returned it to her.  Her mail will now be properly delivered, due to the return of their regular mail carrier.

Caseworkers in my San Francisco office work to address any problems or concerns you may have with a federal government agency. To submit a Casework Authorization Form, please visit my website.
Please feel free to forward this information to your family and friends. To learn more about these efforts, to express your views, or to sign up for email updates, please visit my website. I am also on Twitter at http://twitter.com/NancyPelosi.
 


Sincerely,

Member of Congress