Trumpcare, Defeated.
Lives Saved
The American people have spoken loud and clear against the higher costs and monstrous cruelty of Trumpcare.  Now, Congress must finally pivot to the long overdue bipartisan work to update and improve the Affordable Care Act and to continue to lower Americans' health costs.
The collapse of Trumpcare is a tribute to the power of the American people to organize, mobilize and make their voices heard.  As ever, Democrats extend the hand of friendship to our Republican colleagues to join us in forging constructive progress to improve working families' health care.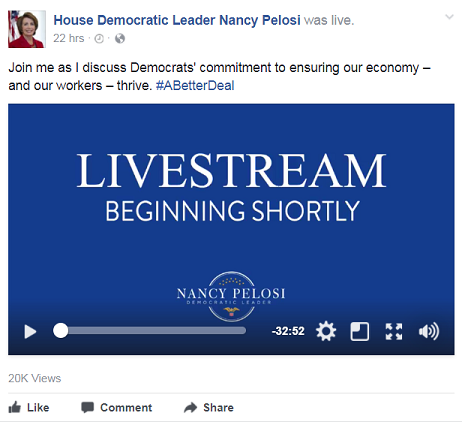 Trump's Trans Ban
This week in 1948, President Harry Truman signed the executive order desegregating the U.S. military.  Sixty-nine years later, President Trump chose the anniversary of that day to unleash a vile and hateful agenda that will blindside thousands of patriotic Americans already serving with honor and bravery. 
President Trump's cruel and arbitrary decision was designed to humiliate transgender Americans who stepped forward to serve our country.   A study commissioned by the Department of Defense found that the cost of providing medically necessary transition-related care would be a paltry 2 to 8 million per year – one one-hundredth of one percent of the military's nearly $50 billion health care budget. 
Wednesday's tweets reveal a President with no loyalty to the courageous men and women in uniform who risk their lives to defend our freedoms.  This disgusting ban will weaken our military and the nation it defends.  Once again, President Trump has shown his conduct is driven not by honor, decency, or national security, but by raw prejudice.  This is a dark moment for thousands of heroes in our military and for our entire country.
My constituent recently moved back into his apartment after waiting 18 months for his building to be restored following a fire. However, mail service had stopped during construction, and when my constituent returned to his apartment, he no longer received any of his mail. After trying unsuccessfully to restore mail service to the building, my constituent contacted my office for assistance. My staff contacted the U.S. Postal Service (USPS) to convey the details of my constituent's situation. Very shortly thereafter, USPS resumed mail delivery to the building.

Caseworkers in my San Francisco office work to address any problems or concerns you may have with a federal government agency. To submit a Casework Authorization Form, please visit my website.
Please feel free to forward this information to your family and friends. To learn more about these efforts, to express your views, or to sign up for email updates, please visit my website. I am also on Twitter at http://twitter.com/NancyPelosi.
 


Sincerely,

Member of Congress