Trump's Latest Act of Bigotry
Unacceptable Bigotry
Wednesday, the Trump Administration proposed to gut protections that prevent federal contractors from discriminating against LGBTQ Americans, women, and other minorities. The Administration's license to discriminate is cruel, blatantly bigoted and downright dangerous.  This hateful rule would greenlight open discrimination against tens of millions of Americans in the workplace, using taxpayer dollars to throw into jeopardy their safety, financial security and well-being.

From Day One, this Administration has tried to inflict a campaign of intolerance against the American people.  Its unceasing attacks on the civil rights and human dignity of the LGBTQ community and on other vulnerable populations profoundly dishonor our values as a nation and undermine the freedoms of all Americans. 

The Democratic House stands with the LGBTQ community in denouncing this offensive attack, and will continue to fight relentlessly until Senator McConnell has passed the Equality Act and sent this life-saving legislation to the President's desk. 

Bigotry has no place in our nation.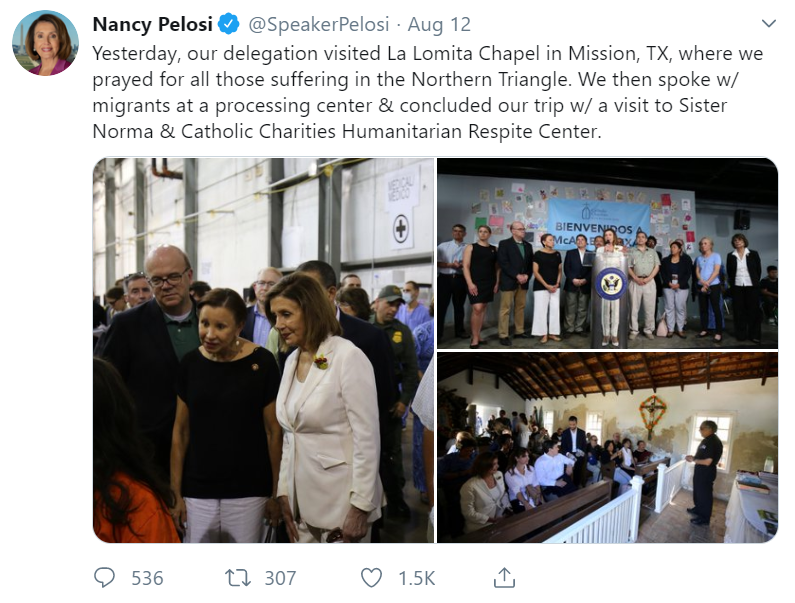 The Endangered Species Act in Danger 
This Monday, the Trump Administration announced major changes to the way the Endangered Species Act is applied, which will drastically weaken protections for endangered and threatened species and force scientists to consider economic and business interests while ignoring the impacts of climate change. The Trump Administration's staggering special interest handout perfectly showcases its utter disdain for science and the future.  

From Day One, this Administration has put the special interests ahead of the public interest.  This latest disastrous decision deals a devastating blow to our natural inheritance and shamefully abandons our moral responsibility to be good stewards of our planet and its precious resources, all to help out big corporations and polluters — just days after the United Nations warned that our natural world is under 'unprecedented threat.'

House Democrats will continue to be relentless in our work to combat the climate crisis, and to protect clean air, clean water and the beauty of God's creation for generations to come.
Injustice in Hong Kong 
For ten weeks now, the people of Hong Kong have inspired the world with the courage and determination with which they are fighting for the freedom, justice and true autonomy that they were promised.  As the weeks have gone on, the people of Hong Kong have been met with increasing hostility for simply expressing their frustration with their government. The Chief Executive and Legislative Council must finally, fully meet the legitimate democratic aspirations of the Hong Kong people, as guaranteed under 'One Country, Two Systems,' starting by completely and immediately withdrawing the dangerous extradition bill, investigating and ending police violence and granting universal suffrage.

The escalating violence and use of force perpetrated against the Hong Kong protestors is extremely alarming.  The pro-Beijing Chief Executive and the Hong Kong police forces must immediately cease the aggression and abuse being perpetrated against their own people.

We urge President Trump to walk away from his recent statements, which invite miscalculation, and to work to advance peace, justice and democracy in Hong Kong.

Congress continues to stand united with the people of Hong Kong in demanding the hopeful, free and democratic future that is their right.  In the coming weeks, we will work to pass the bicameral and bipartisan Hong Kong Human Rights and Democracy Act to reaffirm the U.S. commitment to democracy, human rights and the rule of law in the face of Beijing's crackdown and focus on banning the sale of munitions and crowd control gear to the Hong Kong police force.

If America does not speak out for human rights in China because of commercial interests, we lose all moral authority to speak out elsewhere.

A constituent contacted my office regarding his wife's immigrant visa application affected by the Presidential Proclamation 9645. He contacted the office because his visa application has been pending with the U.S. Embassy for over two years. My office was able to help this constituent submit the necessary medical documents to the Embassy. As a result, the Embassy found that the constituent's application meets the expedite requirement and the case has been expedited.   Caseworkers in my San Francisco office work to address any problems or concerns you may have with a federal government agency. To submit a Casework Authorization Form, please visit my website.
Please feel free to forward this information to your family and friends. To learn more about these efforts, to express your views, or to sign up for email updates, please visit my website. I am also on Twitter at http://twitter.com/NancyPelosi.
 


Sincerely,

Member of Congress