To Russia With Love
Russian Connection
The resignation of National Security Advisor Michael Flynn for secret communications with the Russians and revelations that the campaign team was in constant contact with Russian intelligence agents reflects the dangerous, incompetent conduct of this Administration. The saga involving Michael Flynn and President Trump's campaign connections to the Russian government are just the tip of the iceberg.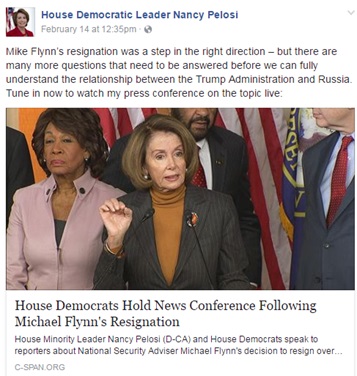 Flynn's resignation is a reflection of the poor judgment of President Trump and demands answers to the grave questions over the President's involvement.  By what authority did Flynn act and to whom did he report? The American people deserve to know the full extent of Russia's financial, personal and political grip on President Trump and what that means for our national security
The FBI must accelerate its investigation of the Russian connection with the Trump Administration, and Congress must call for a bipartisan, independent, outside commission to fully investigate Russia's influence on the Administration.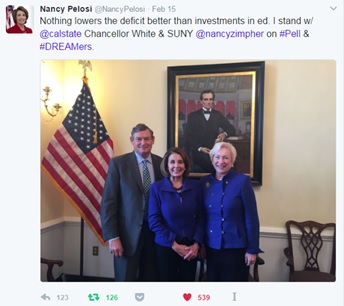 Tear Down This Wall
The news of ICE raids targeting hard-working immigrant families is deeply upsetting. Tearing apart families and dragging parents out of their homes does not make America great. The Trump Administration owes the American people the facts. If ICE has been ordered to spend its time deporting law-abiding parents and DREAMers instead of violent criminals, the public has a right to know.  

Immigration has always been an invigorating force of our society and economy.  Each wave of immigrants brings their hopes, aspirations, faith, and determination to succeed to our shores. With those uniquely American traits, each newcomer makes America more American.
Fear is not a side effect of President Trump's hateful and destructive immigration agenda, it is the purpose.  Democrats will continue to demand the facts and hold this Administration accountable for its cruel and short-sighted immigration policies.
                                                                                          My constituent, a US citizen who had originally immigrated from Yemen, had been trying to bring his children over from Yemen since the conflict began in that country in 2015. After going through the process of sponsoring his children for immigrant petitions, he encountered difficulties obtaining an appointment for his children at a U.S. Embassy in a third country since the U.S. Embassy in Yemen had been closed. With the assistance of my office, my constituent's children were initially scheduled for interviews at the U.S. Embassy in Algeria. However, Algeria began to refuse entry to Yemen nationals, and my office then assisted my constituent with having his children's cases transferred to the U.S. Embassy in Djibouti. In January, his children finally had their visa interviews and were approved for immigrant visas. However, they had not yet left for the United States when the President's executive order was put into effect. As the constitutionality of the executive order was being challenged in Federal court, my staff was communicating with my constituent overseas about the day to day changes taking place as a result of the numerous legal challenges. Because of the Federal court's recent decision staying the executive order until there is a hearing on the merits, my constituent was finally able to return to the United States with his children. His family is now reunited and out of harm's way. 

Caseworkers in my San Francisco office work to address any problems or concerns you may have with a federal government agency. To submit a Casework Authorization Form, please visit my website.
Please feel free to forward this information to your family and friends. To learn more about these efforts, to express your views, or to sign up for email updates, please visit my website. I am also on Twitter at http://twitter.com/NancyPelosi.
 


Sincerely,

Member of Congress