The Nation Is In Tears
An American Hero
The nation is in tears.  With the passing of John McCain, Congress and America have lost a leader and public servant of deep patriotism, outstanding bravery and undaunted spirit.  Compelled by his unshakeable faith and deep love of country, he dedicated his life to defending both America and the American idea – fighting tirelessly to ensure that our nation always remains a land of justice, freedom and hope. 
Over the course of John McCain's years of distinguished service, whether as a naval officer, Member of Congress, U.S. Senator or presidential candidate, we all saw firsthand his integrity, humility, courage and grace.  He never forgot the great duty he felt to care for our nation's heroes, dedicating his spirit and energy to ensuring that no man or woman in uniform was left behind on the battlefield or once they returned home.
Paul and I join with all Americans in mourning the loss of this extraordinary national hero.  May it be a comfort to his wife, Cindy, and his beloved children, Douglas, Andrew, Sidney, Meghan, John, James and Bridget, and his beautiful mother, Roberta, that so many people in America and around with the world mourn with them and pray for them during this sad time.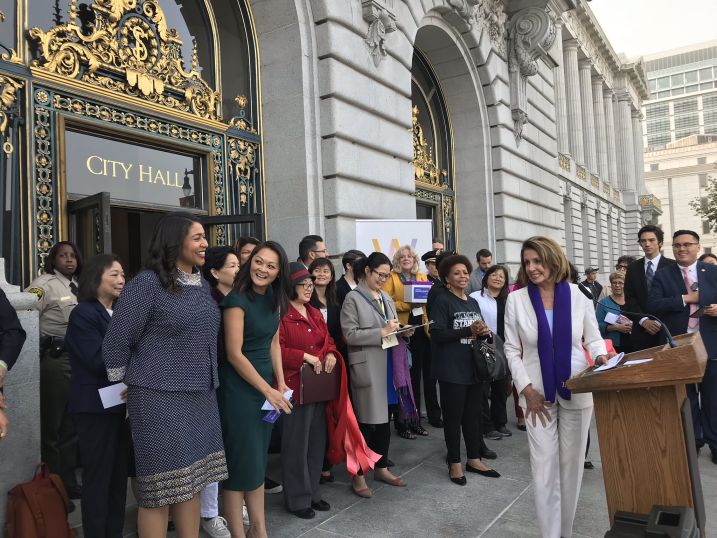 Congresswoman Pelosi joined Mayor London Breed, Assessor Carmen Chu, and the women leaders of San Francisco for the kick-off of the W Challenge, which commemorates 98 years since women won the right to vote.
A constituent recently reached out to my office asking for assistance in expediting her request to the National Personnel Records Center (NPRC) for her late husband's military medals. She was looking to attain duplicates of her husband's medals which had been lost over time. Through the advocacy of my office, duplicates of her husband's medals were sent to my constituent and her family. 

Caseworkers in my San Francisco office work to address any problems or concerns you may have with a federal government agency. To submit a Casework Authorization Form, please visit my website.
Please feel free to forward this information to your family and friends. To learn more about these efforts, to express your views, or to sign up for email updates, please visit my website. I am also on Twitter at http://twitter.com/NancyPelosi.
 


Sincerely,

Member of Congress