Thank You Willie!
This week, San Franciscans and baseball fans all across America mourn the passage of a true legend of the game.  Willie McCovey was a titan on and off the field. From his humble beginnings in the segregated South to his induction to Major League Baseball's Hall of Fame, Willie McCovey lived the American Dream.  He earned international renown for his talent and leadership.  For decades after he retired, Willie's community service earned the devotion of generations of San Franciscans.  That the San Francisco Giants' annual most inspirational player award is named for Willie McCovey is a lasting testament to his joy, generosity of spirit, and optimism.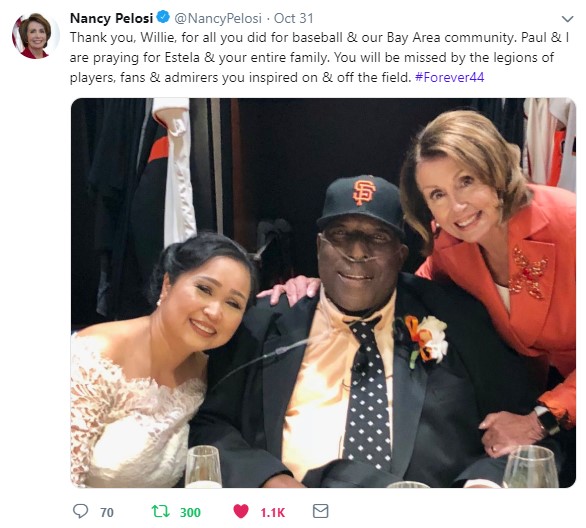 We will carry Willie in our hearts, and honor his memory every time the Giants drive a home run into McCovey Cove.  May it be a comfort to Willie's wife Estela and the entire McCovey family that our whole city, and so many more across the country, join in mourning this extraordinary man.
Enough is Enough 
This past weekend, all Americans were horrified and heartbroken by the brutal mass shooting in Pittsburgh. To have such an unspeakable anti-Semitic hate crime visited on a place of sanctuary and prayer magnifies the pain of that awful day.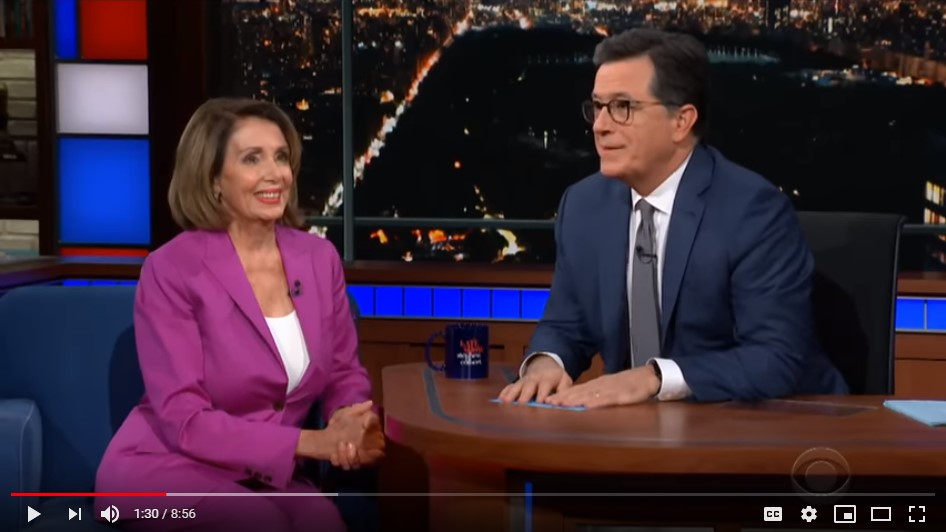 Congresswoman Pelosi joined Stephen Colbert this week to talk about the President's divisive rhetoric and Democrats' For The People agenda.
As ever, we are deeply grateful for the selfless heroism of the first responders who rushed into harm's way to save lives. We pray for them, for those wounded, and for the loved ones of those who were killed on that dark morning. But thoughts and prayers are not enough – Congress must finally act on commonsense, bipartisan gun violence prevention legislation. As Members of Congress, we take a solemn oath to support and defend the Constitution and protect the American people. On Sunday, we marked 9 years since President Obama signed the Matthew Shepard and James Byrd Jr. Hate Crimes Prevention Act under a Democratic Congress. In contrast, this GOP Congress has consistently turned a blind eye to domestic terrorism. The vast majority of the American people believe in commonsense reforms to keep guns out of the hands of criminals and the dangerously mentally ill.
Democrats are committed to saving lives and working to restore confidence in the safety of our communities with deliberate and concrete steps to prevent gun violence. We share in the grief of the Tree of Life congregation and of the entire Pittsburgh community.  May it be a comfort that so many across the country mourn with them at this tragic time.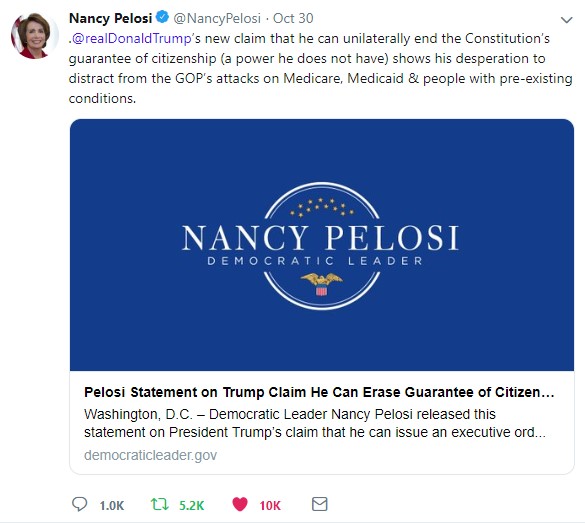 My office was able to help a constituent who was experiencing an issue with the Department of Homeland Security (DHS) in regards to prolonged TSA screening delays which caused her to miss her scheduled flights. My office contacted DHS's Trip Redress Program and the constituent no longer experiences TSA delays with her trips.

Caseworkers in my San Francisco office work to address any problems or concerns you may have with a federal government agency. To submit a Casework Authorization Form, please visit my website.
Please feel free to forward this information to your family and friends. To learn more about these efforts, to express your views, or to sign up for email updates, please visit my website. I am also on Twitter at http://twitter.com/NancyPelosi.
 


Sincerely,

Member of Congress