#ShutDownforWhat
#ShutDownforWhat
On October 1st 2014, we marked the one year anniversary since House Republicans forced a 16-day government shutdown that cost American jobs and damaged our economy. According to the private ratings firm Standard and Poor's, the shutdown cost the economy $24 billion and resulted in 120,000 fewer private sector jobs.

San Francisco – like so many cities across our nation – felt the negative impacts that the shutdown had on our families and on our economy. Our City's federal employees were furloughed and unable to go to work. San Francisco's seniors were unable to apply for the Social Security benefits they earned. Many of our local small businesses were unable to get Small Business Administration loans. And our beautiful national parks, like the Golden Gate National Recreation Area, including Alcatraz and Fort Point, were closed to San Franciscans and tourists. The shutdown caused real damage to Americans, to Californians, and to San Franciscans.

There is much work to do to restore confidence to our economy and improve the lives of America's workers. It is time for House Republicans to join Democrats to enact our bold economic agenda: the Middle Class Jumpstart. Together, Congress can set aside the partisan games and work to advance policies that promote job creation, support opportunities for women and increase accessibility to affordable education for working families.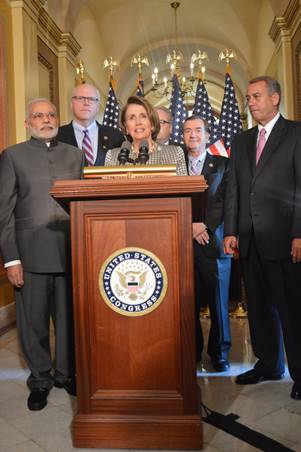 Congresswoman Nancy Pelosi joins with House Members to welcome Prime Minister Narenda Damodardas Modi of India to the United States Capitol.
#RaisetheWage
This week, the president upheld his promise to lift the minimum wage to $10.10 per hour for workers who are employed under federal contracts. Thanks to the President's executive order, which was implemented by the Department of Labor on Wednesday, over 200,000 American workers will see their wages lifted and experience greater economic security for themselves and their families. 
Raising the minimum wage
 is good for our 
workers
, our economy, and our long-term growth. By increasing the federal minimum wage to $10.10 an hour, we can increase the wages of at least 25 million hard working men and women, lift 1 to 4.5 million Americans out of poverty, and generate some $22 billion in increased economic activity.
We need to build an economy that works for 
everyone
, not just the wealthy. It is time for Republicans to stop standing in the way of fairness for working people, and join with Democrats to 
#raisethewage
. 
A Basic Human Right
As we recognize Domestic Violence Awareness Month, we are reminded that although freedom from fear and abuse is a basic human right, an estimated one in every four women will experience domestic violence in her lifetime. Domestic violence terrorizes women, children, and men in homes across America – and we must not allow it to continue.
We must stand together as one nation committed to preventing and ending domestic violence. There can be no excuses, and we must all do our part to raise awareness of this cancer in our communities. As we mark this Domestic Violence Awareness month, let us renew our determination to end domestic violence once and for all.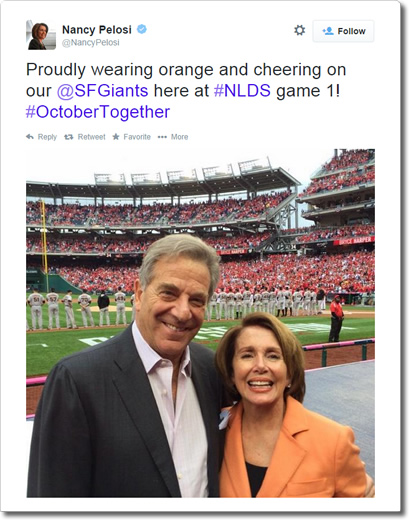 To follow Congresswoman Nancy Pelosi on Twitter, please click here.
Please feel free to forward this information to your family and friends. To learn more about these efforts, to express your views, or to sign up for email updates, please visit my website. I am also on Twitter at http://twitter.com/NancyPelosi.
 


Sincerely,

Member of Congress