#SaveTheInternet
#NetNeutrality
The FCC's radical, partisan decision to dismantle net neutrality strikes a stunning blow to the promise of a free and open Internet. With this unjustified and blatant giveaway to big providers, FCC Chairman Ajit Pai is proving himself an eager executor of the Trump Administration's anti-consumer, anti-competition agenda.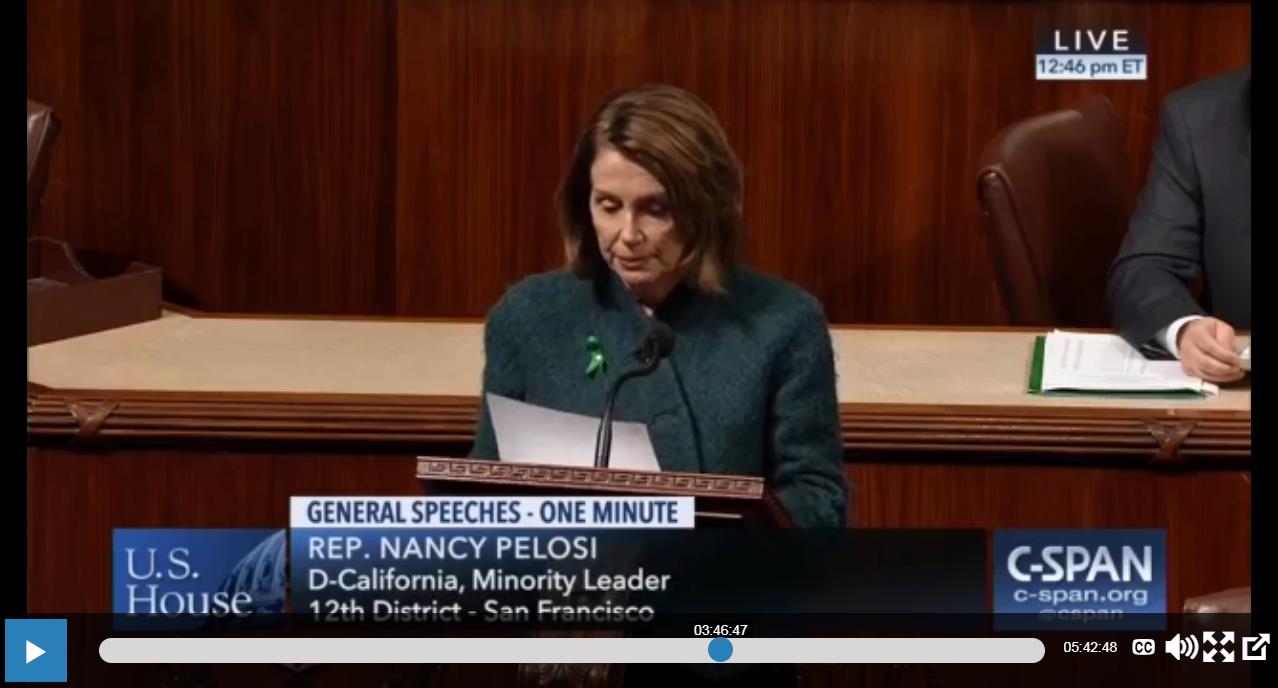 Congresswoman Pelosi delivered a floor speech honoring San Francisco Mayor Ed Lee and the legacy that he leaves behind for San Franciscans to enjoy for the years to come.   
The power of the Internet has always been rooted in its role as a level playing field where the best ideas, not the deepest pockets, succeed. Yet, today's dangerous rule change saddles consumers with higher costs and less choice, throttles competition and punishes entrepreneurs and small businesses. If implemented, these changes would rip away users' control of the own browsing experience, and put it in the hands of big providers.
The FCC's rule change process was marked by haste, secrecy and technical flaws from the start.  This arbitrary decision was made without a single public hearing and over the firm opposition of Internet experts and technologists.  It is deeply disturbing that Pai's FCC has refused to take action to combat the threat of identity theft and fake comments in the agency record, and has refused to comply with FOIA requests or requests for information from the New York Attorney General's Investigation.
Millions of Americans have stood up to demand an open, dynamic Internet free from the discriminatory dictates of providers.  Members of Congress must join them by enacting Rep. Mike Doyle's resolution to overturn this outrageous decision using the authority granted by the Congressional Review Act. If Republicans in Congress decide to ignore the will of their constituents, Democrats will turn to the courts. We expect that the courts will issue the only ruling consistent with the letter of the law and the sentiment of the American people, and will rightly find this decision illegal.
#TaxScam
This week, House and Senate Republicans have been meeting behind closed doors, in secret, to finalize the tax scam legislation. Instead of helping hard-working Americans, they crafted two devastating bills raising taxes on tens of millions of middle class families – and then decided to make their scam worse by slashing taxes for the wealthiest 1 percent even further.
The tax scam is a monumental con job. In every version, Republicans have made this bill even more cowardly, outrageous and worse for the middle class, all just so the super-rich and corporations can get bigger tax cuts. All signs point to the final bill pushing working families over the cliff.
Democrats will continue to fight this moral monstrosity and give the American people A Better Deal, with Better Jobs, Better Wages and Better Futures.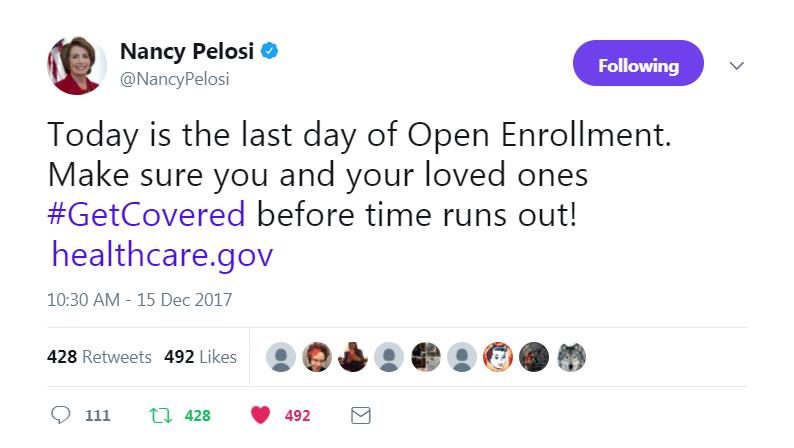 My office recently assisted a constituent who had lost his Medicare Part B benefits from the Social Security Administration (SSA). He had contacted our office because he was unable to reach anyone in the SSA with regards to this matter. He was under the impression that he had missed a payment and did not properly notify the SSA. This issue had put him in a heavy financial and medical burden as well, due to ongoing health problems. Therefore, my staff contacted SSA on his behalf and conveyed the details of his situation. As a result, SSA notified him of the reinstatement of his benefits, which was a result of incorrect direct deposit information. He is now able to receive his Medicare benefits.

Caseworkers in my San Francisco office work to address any problems or concerns you may have with a federal government agency. To submit a Casework Authorization Form, please visit my website.

 
Please feel free to forward this information to your family and friends. To learn more about these efforts, to express your views, or to sign up for email updates, please visit my website. I am also on Twitter at http://twitter.com/NancyPelosi.
 


Sincerely,

Member of Congress