Save the Census
#2020Census 

The Trump Administration's late night announcement of a new citizenship question to the 2020 Census violates the clear constitutional mandate to provide an accurate count of all people living in the United States.  This detrimental change will inject fear and distrust into vulnerable communities, and cause traditionally undercounted communities to be even further under-represented, financially excluded and left behind.
It is disturbing that the President pushed this decision as a dog-whistle tactic to raise funds for his campaign committee.  The Trump Administration put politics over the Constitution and, in so doing, ignored the consensus views of former Census Bureau directors of both parties and the conclusions of the Census Bureau's own recent study, which warns of 'an unprecedented groundswell in confidential and data sharing concerns, particularly among immigrants or those who live with immigrants.'
To protect the strong, accurate and nonpartisan Census that our democracy and Constitution demand, the Congress must now immediately pass Congresswoman Carolyn Maloney's 2020 Census Improving Data and Enhanced Accuracy Act.  Democrats will continue to fight the Trump Administration's cynical efforts to compromise the integrity of this pillar of our democracy.

Congressional Delegation to the Middle East

This week, I led a Congressional Delegation to Israel, Jordan, and Afghanistan to hold a series of meetings with stakeholders in the region. Our five days of meetings with high-level officials, civic leaders and young people in the Middle East and South Asia focused on advancing our national security, countering terrorism and narcotics, promoting economic and social development and advancing regional peace.  Our discussions were enriched by the participation of each member of our high-level Congressional delegation.
Leading up to the 70th anniversary of the establishment of the Jewish state, our delegation was honored to bring the congratulations of the American people to the people of Israel. The U.S.-Israel relationship is deep, it is bipartisan and it is continually strengthened by candid, open dialogue. During our meetings with Israeli President Reuven Rivlin, Prime Minister Benjamin Netanyahu, Opposition Leader Isaac Herzog, and a group of Palestinian youth in Jerusalem, our delegation reiterated American support for a two-state solution and for enduring peace in the region.
In Jordan, our delegation visited at a vital time in the U.S. relationship with this key ally. Our delegation was grateful for the warm hospitality of King Abdullah II who hosted us for a working lunch and a thoughtful exchange of views on critical regional and economic security, and cooperation issues. Finally, our delegation traveled to Afghanistan, where we met with our servicemembers on the front line executing the priority U.S. mission of training and advising Afghan security forces. Our meetings confirmed that Afghanistan has come a long way with the support of the U.S. and other international partners but formidable challenges remain.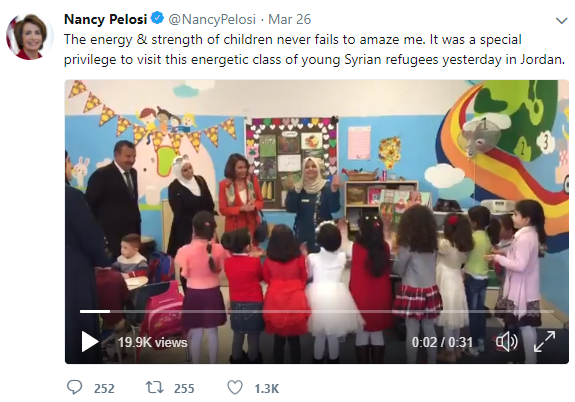 Congresswoman Pelosi met with a class of young Syrian refugees at Dahiet Al Ameer School, which was constructed by USAID in 2011 and serves many Syrian children.
Visit the Smithsonian National Museum of African American History and Culture in April
 The Smithsonian's National Museum of African American History and Culture in Washington D.C. has announced Walk-Up Wednesdays for the entire month of April 2018. Individuals who walk up without timed entry passes may enter the museum on a first-come, first-served basis Wednesdays, April 4, 11, 18 and 25. If you are in Washington D.C. and want to find more information on timed passes and Walk-Up Wednesdays, please visit their website.
My office recently assisted a constituent who had been experiencing issues with the Social Security Administration (SSA). She had been collecting Social Security benefits, along with a portion of her ex-husband's benefits. However, she received a letter saying that the SSA could not pay her monthly benefits and was unable to reach anyone for clarification. Therefore, my office contacted SSA on her behalf and conveyed the details of her situation. As a result, SSA reinstated her benefits and deposited a refund into her bank account. She will now continue to receive her monthly Social Security benefits.

Caseworkers in my San Francisco office work to address any problems or concerns you may have with a federal government agency. To submit a Casework Authorization Form, please visit my website.
Please feel free to forward this information to your family and friends. To learn more about these efforts, to express your views, or to sign up for email updates, please visit my website. I am also on Twitter at http://twitter.com/NancyPelosi.
 


Sincerely,

Member of Congress