Refugees Welcome
Last week, President Trump issued an executive order barring citizens of seven Muslim-majority countries from entering the United States. President Trump's #MuslimBan has not made us safer. It has made us less so. The injunction against President Trump's Executive Order must be immediately enforced nationwide to prevent further harm from his immoral and unconstitutional ban on Muslims. I support the efforts of the ACLU and others to challenge this order on Constitutional grounds. Any delays in implementing the injunction will have extremely harmful ramifications across the United States as families, coworkers and communities will be arbitrarily separated.  
This week, I joined my colleagues on the steps of the Supreme Court to fight the President's reprehensible order. Congressional Democrats also stood on the front lines, around the country, in airports and customs offices, fighting for the rights of dual citizens. The values illustrated were in stark contrast with the President's unconstitutional, immoral, and dangerous ban on refugees and citizens of Muslim countries coming into the United States.
As the Statue of Liberty holds her torch of welcome high, there are tears in her eyes as she sees how low this Administration has stooped in its callousness toward immigrant families and refugees who have trusted in the laws and protections of the United States. House Democrats will continue to defend our Constitution and demand smart and vigorous action to defeat terrorists while protecting religious freedoms.
Our Bodies: Not Up for Grabs
After the relentless contempt for women that candidate Trump displayed throughout his campaign, it is no surprise that President Trump intends to place someone hostile to women's rights on the Supreme Court. The consequences of putting President Trump's justice on the Supreme Court could not be more serious or far-reaching. We stand with the American people in demanding the toughest scrutiny of Judge Gorsuch before the Republican Senate holds any vote to send him to the highest court in the land.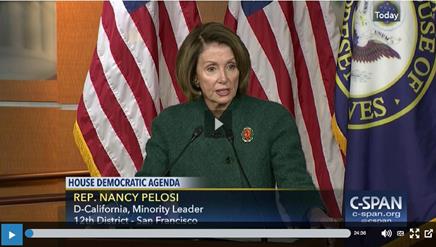 Congresswoman Nancy Pelosi holds her weekly press conference.
Black History Month
This month we celebrate Black History Month.  February is selected because it is the birth month of both President Abraham Lincoln and Frederick Douglass.  Across America, citizens pay tribute to the enduring contributions African Americans have made to our democracy.  African Americans' beautiful legacy of courage, sacrifice and integrity in the face of injustice, hatred, and violence continue to move our Nation closer to fulfilling its promise.  Congress must strive to end systemic discrimination and institutional racism that limits opportunities in education, housing, and jobs in rural and urban communities alike, while also addressing mass incarceration and building bridges between law enforcement officers and the communities they serve.  Together, we can keep moving America forward.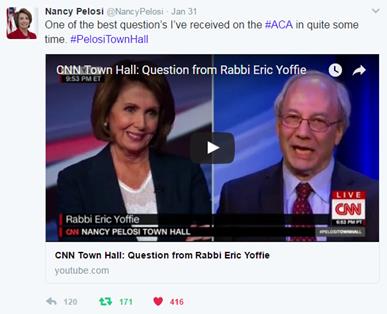 Congresswoman Nancy Pelosi answers questions during her CNN town hall.
Throughout this past weekend and early in the week, my staff and an army of volunteer attorneys were on the ground at SFO finding ways to assist constituents returning home from abroad, who were affected by the President's recent executive order that banned travel to the United States by lawful permanent residents, refugees, and other valid visa holders from Iraq, Iran, Libya, Somalia, Sudan, Syria, and Yemen.  In one particular case, a team of volunteer immigration attorneys at the airport and my staff worked with my constituent's family to relay information to my constituent while inflight to prepare her for going through Customs.  After 3 hours at Customs, she was finally cleared and is now happily at home and reunited with her family.

  
Caseworkers in my San Francisco office work to address any problems or concerns you may have with a federal government agency. To submit a Casework Authorization Form, please visit my website.
Please feel free to forward this information to your family and friends. To learn more about these efforts, to express your views, or to sign up for email updates, please visit my website. I am also on Twitter at http://twitter.com/NancyPelosi.
 


Sincerely,

Member of Congress