Raise the Wage!
Democrats Secure Long-Overdue Pay Raise For Up To 33 Million Workers 
This week, the House  took a strong step to secure fairness and progress in America as we passed H.R. 582, the Raise the Wage Act, which would increase the federal minimum wage to $15 an hour by 2025 – giving nearly 33 million hard-working men and women a raise!  We were proud to pass this bill – which increases wages for nearly 20 million women – on the anniversary of the Seneca Falls Convention, when America declared that "all men and women are created equal."

Ten years have passed since the federal minimum wage was last raised under the previous Democratic Majority.  While families work hard to make ends meet, their cost of living has surged to unsustainable highs, inflation has eaten nearly 20 percent of their wages and the GOP's special interested agenda has left them behind.  No one can live with dignity on a $7.25/hour wage – and in fact, one in nine U.S. workers are paid wages that leave them in poverty, even when working full-time and year-round.

The Raise the Wage Act of 2019 would:
Gradually raise the federal minimum wage from $7.25 to $15 by 2025;
Index future increases in the federal minimum wage to median wage growth to ensure the value of minimum wage does not once again erode over time;
Guarantee tipped workers are paid at least the full federal minimum wage by phasing out the subminimum wage for tipped workers, which will ensure consistent, livable pay without eliminating tips;
Guarantee teen workers are paid at least the full federal minimum wage by phasing out the rarely used subminimum wage for youth workers; and
End subminimum wage certificates for workers with disabilities to provide opportunities for workers with disabilities to be competitively employed and participate more fully in their communities.
California has long led the way forward by passed a $15 minimum wage, and on July, San Francisco reached a minimum wage of $15.59.  Now, with the Raise The Wage Act, Congress is catching up, and securing progress for hard-working Americans across the nation!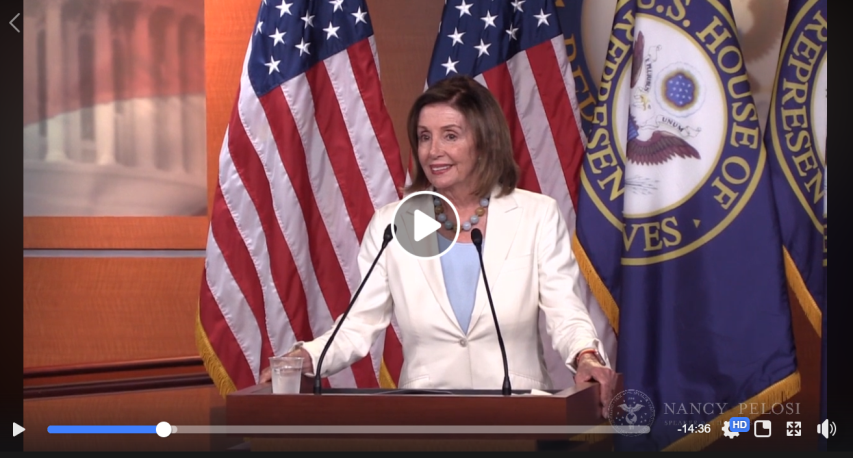 Congresswoman Pelosi speaking with reporters as Congress prepares to honor our oath to support and defend the Constitution by voting to hold Secretary Ross and Attorney General Barr in contempt for refusing to comply with Congress's constitutional oversight.

Bringing Aid to the Victims of Wildfires 
On Tuesday the U.S. Department of Agriculture announced that the U.S. Forest Service will provide California with the reimbursements required under the existing California Fire Assistance Agreement for expenses resulting from last year's wildfires

For the past two years, California communities and families have experienced the deadliest wildfires on record.  For months, our brave firefighters, first responders and National Guard, risked all to fight the fires and keep families and loved ones safe.  After advocating strongly for timely, accurate reimbursements that California is owed, I commend USDA for their swift response to my concerns and their continued commitment to honoring current agreements and pledge to expedite payments to our state agencies and our communities, who are still reeling from the destruction and struggling to rebuild and to become whole.  

This important success builds on the critical funding that the House has secured for California communities and disaster response agencies.  Congress delivered strong action to secure billions of dollars in much-needed wildfire disaster assistance, passed the 2018 bipartisan Farm Bill that included sustainable wildfire deterrence initiatives and ended the outdated practice of fire borrowing that takes away from critical prevention and forestry management efforts.  As the frequency and severity of wildfires continues to grow, due in part to the climate crisis, we must ensure that we take every precaution and provide every resource to protect communities and mitigate future disasters.

The people of California deserve to know that Congress will be there for them now and throughout the long road to recovery.  We will stand with the families, communities and first responders devastated by these disasters, and work tirelessly to help all Californians heal, recover and rebuild.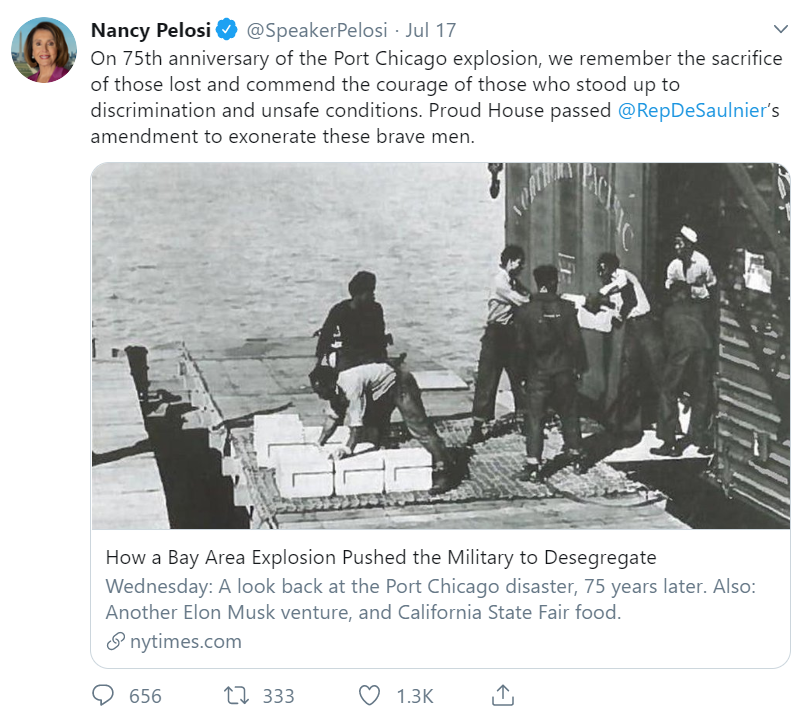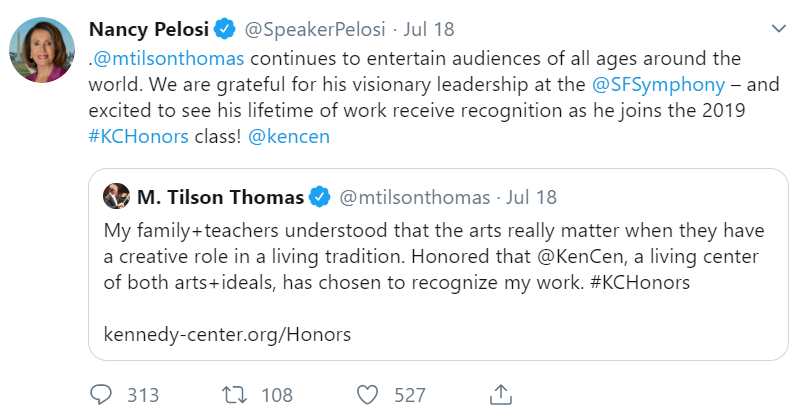 My office was contacted by a constituent experiencing issues with mail delivery from the United States Postal Service (USPS). The constituent runs a local nonprofit and notified my staff that their outgoing mail is received late by their intended recipients and that there is no regular mail carrier for their building. My staff reached out to USPS to convey the details of their situation. As a result, USPS contacted my constituent to address their concerns and a regular mail carrier was assigned to their area.

Caseworkers in my San Francisco office work to address any problems or concerns you may have with a federal government agency. To submit a Casework Authorization Form, please visit my website.

 
Please feel free to forward this information to your family and friends. To learn more about these efforts, to express your views, or to sign up for email updates, please visit my website. I am also on Twitter at http://twitter.com/NancyPelosi.
 


Sincerely,

Member of Congress