Radical Farm Bill Fails
Farm Bill Failed Farmers, Working Families

Today, on a bipartisan basis, the House rejected Republicans' partisan Farm Bill. The Republicans wrote a cruel, destructive Farm Bill that abandoned farmers and producers amid plummeting farm prices and the self-inflicted damage of President Trump's trade brinkmanship.  Their heartless bill would have slashed $23 billion in SNAP benefits for children, seniors, students, 1.5 million veterans, 23,000 servicemembers, individuals with disabilities and working families.
The House of Representatives should now return to its historic, bipartisan tradition and negotiate in good faith. The Congress must craft a balanced, robust Farm Bill that honors our responsibilities to the 16 million men and women of agriculture and the nearly 41 million Americans who are food-insecure.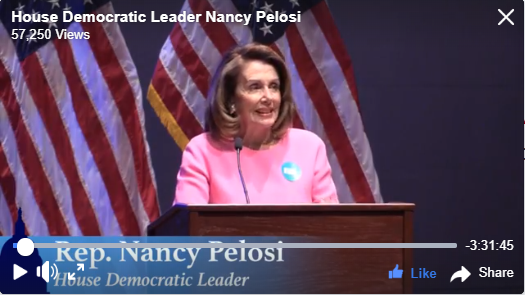 This week, Congresswoman Nancy Pelosi welcomed national leaders, academics, advocates and Members of Congress to Capitol Hill for a Moms Summit on the health, economic security, civic engagement and leadership of American women.
International Day Against Homophobia, Transphobia and Biphobia
Through decades of tireless advocacy and activism, we have made extraordinary progress toward realizing the promise of equality and justice for all LGBTQ Americans.  Yet, the Trump Administration hascontinuously failed to protect these achievements, abandoning transgender students, refusing to enforce anti-discrimination protections and keeping LGBTQ Americans invisible in the Census.  
We must never relent in our determination to defend and advance the rights of all LGBTQ people.  In Congress, Democrats continue to press for the Equality Act, to remove all doubt that sexual orientation and gender identity belong in the protections of the Civil Rights Act that guards our democracy. As we mark the International Day Against Homophobia, Transphobia and Biphobia, we affirm that no person should live in fear or suffer discrimination because of who they are or whom they love.

My office recently assisted a constituent who was having issues applying for benefits through the Social Security Administration (SSA). He had contacted our office because he was unable to reach a resolution to his issue. Prior to turning 63, someone had applied for benefits in his name and he had frozen his account in response. Upon becoming eligible for benefits, he visited his local office to apply, but had not heard an update since. Therefore, my office contacted SSA on his behalf and conveyed the details of his situation. As a result, SSA processed his claim and approved his benefits and backpay to reflect benefits past due.

Caseworkers in my San Francisco office work to address any problems or concerns you may have with a federal government agency. To submit a Casework Authorization Form, please visit my website.
Please feel free to forward this information to your family and friends. To learn more about these efforts, to express your views, or to sign up for email updates, please visit my website. I am also on Twitter at http://twitter.com/NancyPelosi.
 


Sincerely,

Member of Congress