Pruitt Must Resign
#PollutingPruitt

EPA Administrator Scott Pruitt's tenure has been a part of the Trump Administration's culture of corruption, cronyism and incompetence.  Pruitt must resign.

Pruitt has displayed a staggering ethical blindness, and his abuses of office are representative of an Administration that uses their powerful positions to enrich themselves and their friends. 
Multiple members of Trump's Cabinet are under federal investigation for graft, corruption and sticking taxpayers with the multi-million dollar bill for their extravagance and lavish lifestyles.  Republicans in Congress need to end their complicity, and finally take action to hold Pruitt and this Administration accountable for their abuses.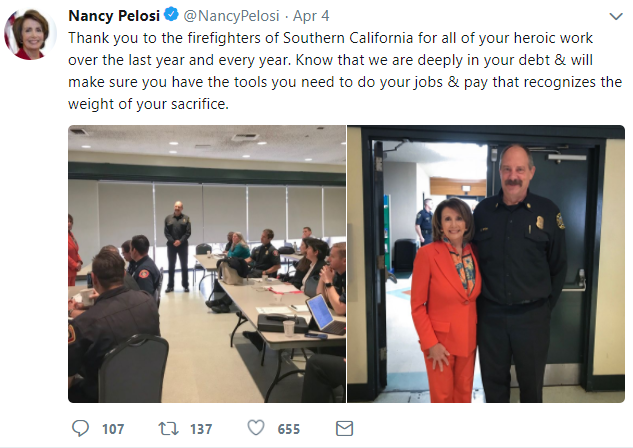 Congresswoman Pelosi met with firefighters in Southern California this week to thank them for their service.
Don't Militarize Our Border
This week, President Trump announced his plan to deploy National Guard troops at the U.S.-Mexico border.  President Trump continues to use every cynical political trick in the book to ignite anti-immigrant fervor. His needless militarization of the border is motivated purely by political calculation, not our national security.
Instead of squandering resources with this pointless policy, the President should get to work with the Congress to reach a permanent solution for our courageous Dreamers. Every day, these patriotic, determined young people live under a cloud of fear and uncertainty. A bipartisan DREAM Act could pass immediately, if brought to the Floor for a vote.
Democrats stand for smart, strong border security that honors our oath to support and defend the Constitution and protect the American people. We know that the American people deserve real leadership, not a President willing to abuse his role as Commander-in-Chief with an expensive political stunt.
Honoring Dr. Martin Luther King Jr.
Fifty years ago, on the balcony of a motel in Memphis, Tennessee, an assassin's bullet took the life of the Reverend Dr. Martin Luther King Jr.  As we mark fifty years since the loss of Dr. King, we must honor his memory and the memories of those who stood, marched and fought by his side by continuing to protect the right to vote, lift up struggling communities, expand access to a quality education and break the cycle of poverty and injustice that continue to plague millions of Americans.
As Democrats and as Americans, it is our honor and our responsibility to advance Dr. King's noble work.  Together, we can rededicate ourselves to furthering the remarkable vision of this singular man, a man who stood on the mountaintop, saw the promised land and set us on the path toward peace and justice for all.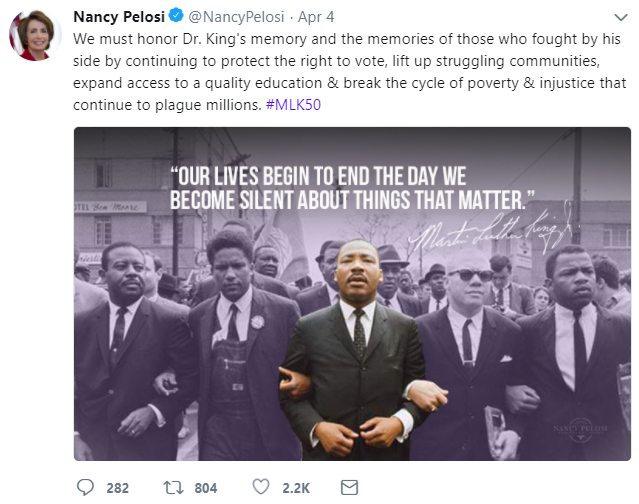 My office recently assisted a constituent who had applied for Social Security Disability Insurance (SSDI) through the Social Security Administration (SSA). She had contacted our office because she was approved for SSDI monthly benefits through an Administrative Law Judge (ALJ) hearing, but had not yet received backpay. Therefore, my office contacted SSA on her behalf and conveyed the details of her situation. As a result, SSA processed this claim and provided her backpay to reflect benefits past due.

Caseworkers in my San Francisco office work to address any problems or concerns you may have with a federal government agency. To submit a Casework Authorization Form, please visit my website.
Please feel free to forward this information to your family and friends. To learn more about these efforts, to express your views, or to sign up for email updates, please visit my website. I am also on Twitter at http://twitter.com/NancyPelosi.
 


Sincerely,

Member of Congress