Protecting the Dreams and Rights of our People
Full Equality
This week, the House took a momentous step toward securing the full blessings of equality for the LGBTQ community and our country.

Led by the vision and values of our diverse, dynamic new members and inspired by the courage of advocates and allies, we are bringing our nation closer to its founding promise of full equality by introducing the Equality Act — to finally, fully end discrimination against LGBTQ Americans.

The Equality Act is simple. It says, unequivocally, that LGBTQ Americans deserve the full protections guaranteed by the landmark Civil Rights Act of 1964. To dismantle the discrimination undermining our democracy, we must ensure that all Americans, regardless of sexual orientation or gender identity, are treated equally under the law — not just in the workplace, but in education, housing, credit, jury service and public accommodations as well.  We will never rest until full equality has been achieved for the LGBTQ community.

We will be relentless in our work to defeat the president's discriminatory, anti-LGBTQ agenda and hateful attacks on the transgender community. The president's transgender service ban is a cruel and arbitrary decision designed to humiliate patriotic transgender Americans who have stepped forward to bravely serve our country, and it will not be allowed to stand. Liberty, justice, and equality are America's guiding values — not bigotry and discrimination.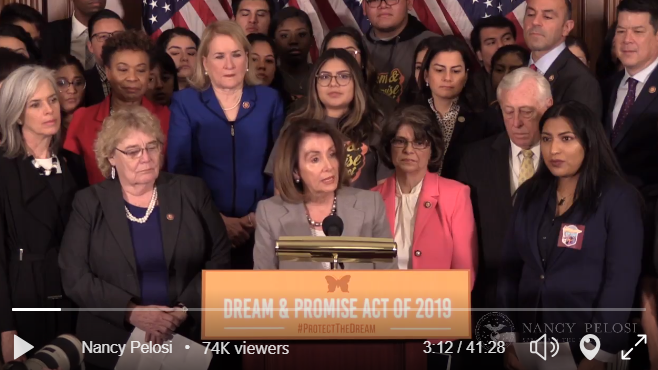 Congresswoman Pelosi at a press conference with Democrats and advocates introducing H.R. 6 The Dream & Promise Act.
Securing the American Dream 
Democrats are proud to stand with Dreamers and Temporary Protected Status and Deferred Enforced Departure holders as we take a historic step to protect the patriotic men and women make America more American.

This week, we introduced Dream and Promise Act, which ensures that Dreamers and TPS and DED Americans continue to bless and enrich our nation.  We are pleased that this legislation opens a door of opportunity for Temporary Protected Status and DED recipients, who are American in every way, raising families, starting businesses and contributing to our communities over the decades.

Once we pass this bill, we will fight for a comprehensive fix to our broken immigration system which embraces the contribution of all of our newcomers.  There should be nothing partisan or political in this legislation.  Protecting Dreamers and TPS and DED Americans is about honoring and respecting the family that is at the heart of our faith and the heart of who we are as Americans.

We look forward to a strong, bipartisan vote to pass this legislation and safeguard every child and family's right to pursue their American Dream.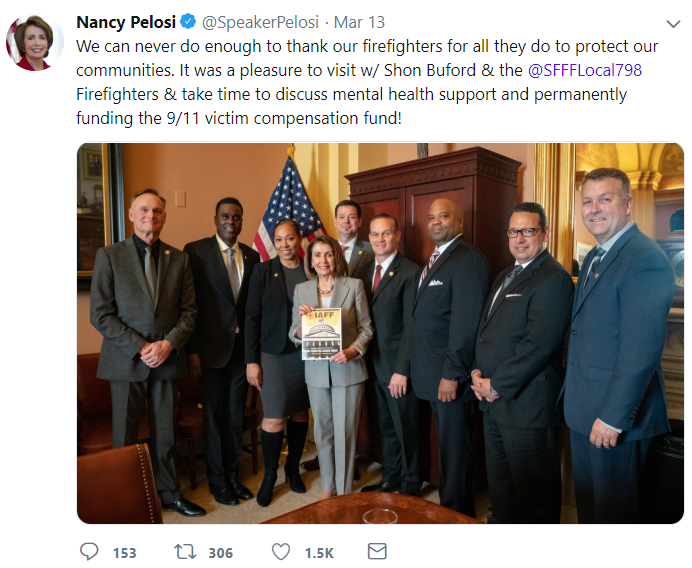 Ensuring Transparency for the American People 
On Thursday evening, the House overwhelmingly passed a bipartisan resolution urging the Justice Department to release the findings of Special Counsel Mueller's report in full to the Congress and the public. The American people deserve to know the full truth so they can have confidence in the integrity of our democracy.

A constituent contacted my office because his partner was experiencing difficulty leaving a country that was experiencing political turmoil and street violence. My office was able to provide the US Embassy with the constituent's location and situation in the country in turmoil. In addition, my office was able to provide information from the US Embassy to him in order to leave the country safely.

Caseworkers in my San Francisco office work to address any problems or concerns you may have with a federal government agency. To submit a Casework Authorization Form, please visit my website.
Please feel free to forward this information to your family and friends. To learn more about these efforts, to express your views, or to sign up for email updates, please visit my website. I am also on Twitter at http://twitter.com/NancyPelosi.
 


Sincerely,

Member of Congress