Protecting Our Planet to Protect Ourselves
Caring For Our Planet On Earth Day 
On Earth Day, people around the world come together to celebrate the richness and diversity of the planet we call home, and renew our commitment to combat the climate crisis and protect the air we breathe, the water we drink and the beauty of God's creation for generations to come. 

In communities across the globe, the climate crisis is already exacting a devastating toll as rising seas, savage droughts, devastating wildfires and increasingly extreme and unpredictable weather patterns threaten the people and places we love. In America, the growing crisis is raising serious risk to our public health, our economy, our national security and our moral obligation to protect the environment. 

For Democrats, combating the climate crisis is not an issue – it is a moral imperative that compels us to act. That is why, on day one, we created the Select Committee on the Climate Crisis to put an end to the inaction and denial of science that threaten the Earth and our future. House Democrats also took a bold first step to protect our planet by introducing H.R. 9, the Climate Action Now Act, to keep us in the Paris Agreement, demand a real plan from the Administration and lay the foundation for further decisive action from the Congress. On Earth Day, and every day, we are fighting For The People, and are working to create a clean energy economy and a safe, sustainable future for our children and grandchildren to grow and thrive.

Yemen War Powers Resolution 
The conflict in Yemen is a horrific humanitarian crisis that challenges the conscience of the entire world. Yet the President has cynically chosen to contravene a bipartisan, bicameral vote of the Congress and perpetuate America's shameful involvement in this heartbreaking crisis. 

This conflict must end, now.  The House of Representatives calls on the President to put peace before politics, and work with us to advance an enduring solution to end this crisis and save lives.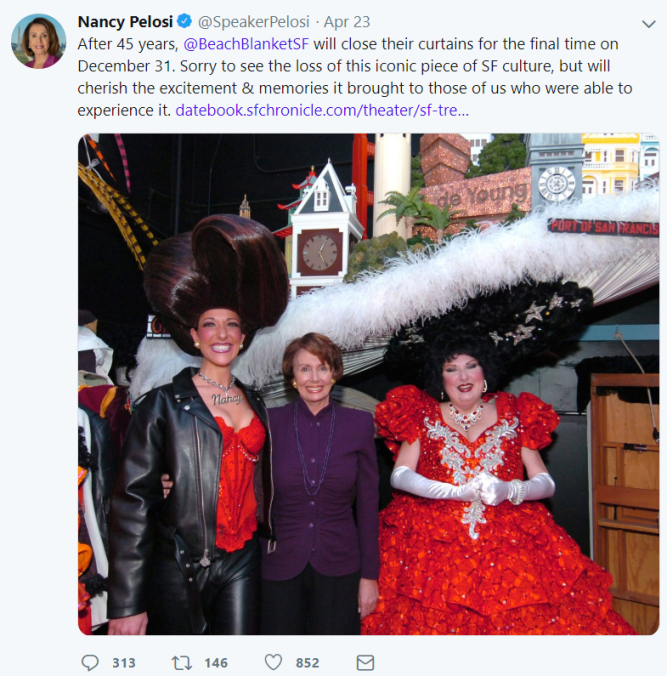 A constituent reached out to my office regarding a work visa application for a visiting professor. He reached out because of the long delay in the processing and review of the visa. After helping the constituent submit necessary documents, my staff was able to help the constituent secure a favorable recommendation for the visa.

Caseworkers in my San Francisco office work to address any problems or concerns you may have with a federal government agency. To submit a Casework Authorization Form, please visit my website.
Please feel free to forward this information to your family and friends. To learn more about these efforts, to express your views, or to sign up for email updates, please visit my website. I am also on Twitter at http://twitter.com/NancyPelosi.
 


Sincerely,

Member of Congress