Our Most Basic Rights
This 4th of July, let us all remember the first and lasting promise of America – that everyone is created equal, that liberty and justice are a right for each and every person who calls this land home. Generations of Americans have stood up, have fought, have marched, have even died so that this promise is not empty for all but the most fortunate few. We must remember these Americans, for their sacrifices lift us all, and their courage continues to carry us forward. We must remember the principles that they stood for and lived for, and the rights that they eventually won.

As we marked the 50th anniversary of the signing of the Civil Rights Act of 1964 yesterday, we celebrated the civil liberties that define our democracy. The Civil Rights Act stands as one of the great legislative achievements in our history: a pillar of fairness, justice and equality, and a monument to countless acts of courage that brought it into being. 

This law was built by the daily heroism, dignity, and defiance of millions of Americans crying out for justice – daring to dream of a day beyond the segregation and the discrimination that cleaved our nation. With the passage of the Civil Rights Act, we made America more American, and stretched towards the full promise and power of our founding ideals.

All acknowledged that the Civil Rights Act was incomplete without the Voting Rights Act. As we observe this anniversary, we must renew our commitment to reclaim the cornerstone of our democracy and pass a renewed, revised, and strengthened Voting Rights Act. Together, we will continue to advance the cause of civil rights in America, and carry forward the legacy of leadership that has made so much of our nation's progress possible.

I wish you and your loved ones a safe and happy Independence Day.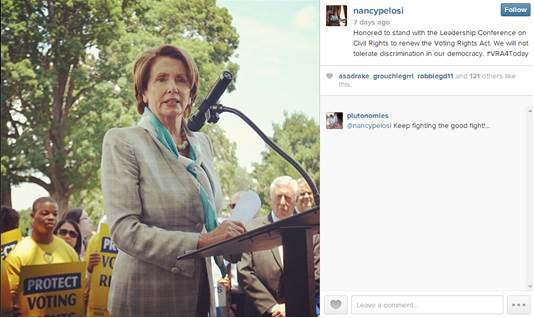 To follow Congresswoman Nancy Pelosi on Instagram, please click here.
Please feel free to forward this information to your family and friends. To learn more about these efforts, to express your views, or to sign up for email updates, please visit my website. I am also on Twitter at http://twitter.com/NancyPelosi.
 


Sincerely,

Member of Congress