Orlando
No More Silence
On Sunday, our nation awoke to the agonizing news of the brutal attack on so many people hoping to just spend a night out dancing. Our hearts ache for all of those killed in this senseless attack, and we pray for the swift recovery of all those who were wounded. At this terrible time, we carry the names of these young people who were killed in Orlando in our hearts. The American people are horrified and heartbroken to see such hatred laid bare in Orlando, and the pain of this attack in a mainstay of the LGBT community is surely magnified as our nation celebrates LGBT Pride month.

These Americans were targeted for who they are and who they love – and there can be no doubt: this horrific attack was clearly a hate crime. The shooting at Pulse Nightclub was an act terror and an act of hate. The late San Francisco Supervisor Harvey Milk said, 'hope can never be silent' – and as we honor the one-year anniversary of the racist attack at Mother Emanuel AME church in Charleston, we must recommit ourselves to creating safer communities for all Americans.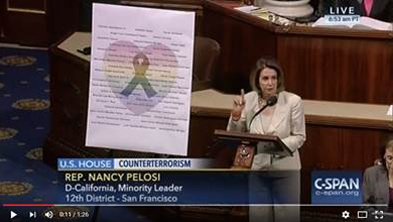 Following the Orlando Shooting, Congresswoman Pelosi remembered the 49 victims and called on closing the dangerous 'No Fly No Buy' loophole.

We have no right to hold moments of silence without days of action to honor not only the victims in Orlando, but all victims of gun violence. House Democrats will continue to demand immediate action to close the scandalous 'No Fly, No Buy' loophole, which allows suspected terrorists on the FBI's no-fly list to walk into a gun store and legally buy deadly weapons. It's simple: if you're too dangerous to fly, you're too dangerous to buy a gun. But On 13 different occasions, Republicans have voted to block this common sense, bipartisan step to keep the American people safe. House Democrats will continue to stand tall in demanding from Congress concrete, life-saving action to confront the epidemic of gun violence in America.
 
Nancy Pelosi
@NancyPelosi

---

To follow Congresswoman Pelosi on twitter, please click here

.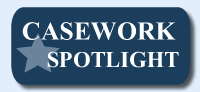 My office was recently contacted by a constituent, because her cousin, who suffers from debilitating mental illness, had need for a Section 8 housing voucher. The cousin's mother had been on the Section 8 waitlist for many years, but had passed away in March, and had not updated her application with her daughter's name. As a result, the cousin was without means to obtain housing and had nobody to advocate for her. My staff contacted the Housing Authority conveying the details of the situation, and I was pleased to learn that the Section 8 housing voucher has now been processed and transferred to the cousin.

Caseworkers in my San Francisco office work to address any problems or concerns you may have with a federal government agency. To submit a Casework Authorization Form, please visit my website. 
Please feel free to forward this information to your family and friends. To learn more about these efforts, to express your views, or to sign up for email updates, please visit my website. I am also on Twitter at http://twitter.com/NancyPelosi.
 


Sincerely,

Member of Congress