Not What the Doctor Ordered
A New Low

The Trump Administration proved once again it will stop at nothing to destroy the health coverage of Americans with pre-existing conditions. This time, the Department of Justice is asking a federal court to strike down key protections in the Affordable Care Act that prevent insurance companies from denying coverage or charging more for pre-existing conditions.
If the Administration gets their way, pregnant women and people with asthma, arthritis, cancer, depression, diabetes or other pre-existing conditions will be dragged back to the dark days of astronomical costs and worse coverage. 
House Democrats have written letters to the Department of Justice and Department of Health and Human Services and Centers for Medicare and Medicaid Services demanding the Trump Administration produce documents on the legal justification and analysis of the health coverage and cost consequences of the administration's decision.

The American people deserve better than the raw deal Republicans have been forcing on them in health care.  Democrats will continue to fight to protect Americans' health care and lower their costs, and are offering A Better Deal to lower the surging costs of prescription drugs.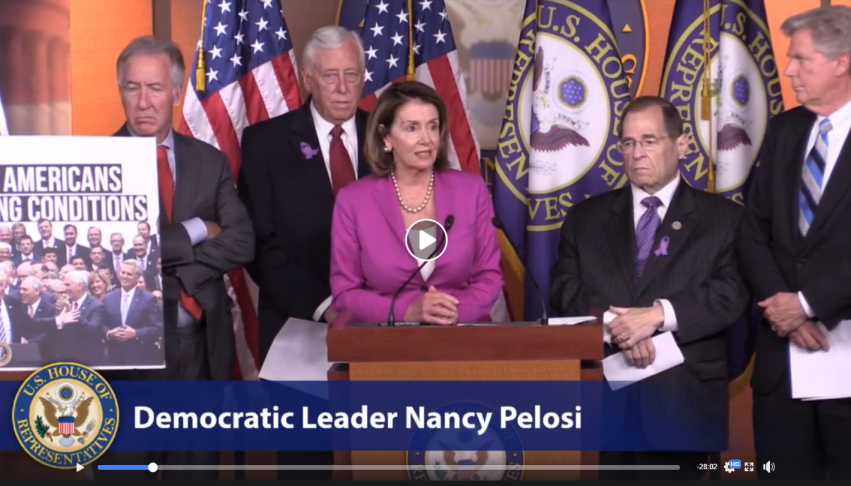 Congresswoman Pelosi held a press conference with her colleagues to demand answers on the efforts to remove protections for Americans with pre-existing conditions.
Hunters Point Naval Shipyard 

Residents of the Shipyard and surrounding Bayview-Hunters Point community have made their voices heard loud and clear.  Following the massive potential data falsification by contractor Tetra Tech EC, it is imperative that residents have access to trustworthy data to prove that there is no risk posed to the health and safety of residents, workers and visitors at the new Shipyard community on Parcel A. 
Yesterday, the Navy agreed with my request for the retesting of Parcel A at the former Hunters Point Naval Shipyard to be managed by the California Department of Public Health.  While the Navy and EPA assure us that this Parcel is safe, I am pleased that they made the right call by agreeing to my request to rescan, with the California Department of Public Health running the process.
In addition, today the Navy released the draft workplan for retesting Parcel G, which will be paid with funds I secured as part of the fiscal year 2018 funding omnibus. This workplan is a crucial first step for radiological retesting, which will include trench excavations, surface scans and soil sampling, as well as building scans.  We know this is just the beginning, as every parcel touched by Tetra Tech will require a workplan and thorough retesting.
I have made clear that this process must be open and transparent, with robust opportunity for the community to evaluate and provide comment on the draft workplan.  In response, the Navy has committed to an extended 60-day public comment period.
In my time representing San Francisco in the U.S. Congress, I have been proud to have secured over $1 billion for the cleanup of the Hunters Point Shipyard.  Our community deserves to know that these investments are being made in a safe, smart and transparent manner. 

My office recently assisted a constituent who had not been receiving survivors' benefits from the Social Security Administration (SSA). She had contacted our office because she had visited the SSA on numerous occasions without resolving the issue. Therefore, my office contacted SSA on her behalf and conveyed the details of her situation. As a result, SSA reinstated her benefits and provided back pay for the time she did not receive benefits.

Caseworkers in my San Francisco office work to address any problems or concerns you may have with a federal government agency. To submit a Casework Authorization Form, please visit my website.
Please feel free to forward this information to your family and friends. To learn more about these efforts, to express your views, or to sign up for email updates, please visit my website. I am also on Twitter at http://twitter.com/NancyPelosi.
 


Sincerely,

Member of Congress