New Beginnings
Today, we celebrated the ribbon-cutting ceremony for the Salesforce Transit Center, a revolutionary infrastructure initiative worthy of America's cradle of innovation. This 21st century transit hub will not only curb congestion and cut down commutes, it will transform how our city works, travels and lives. The Center is about so much more than transportation — it is about community.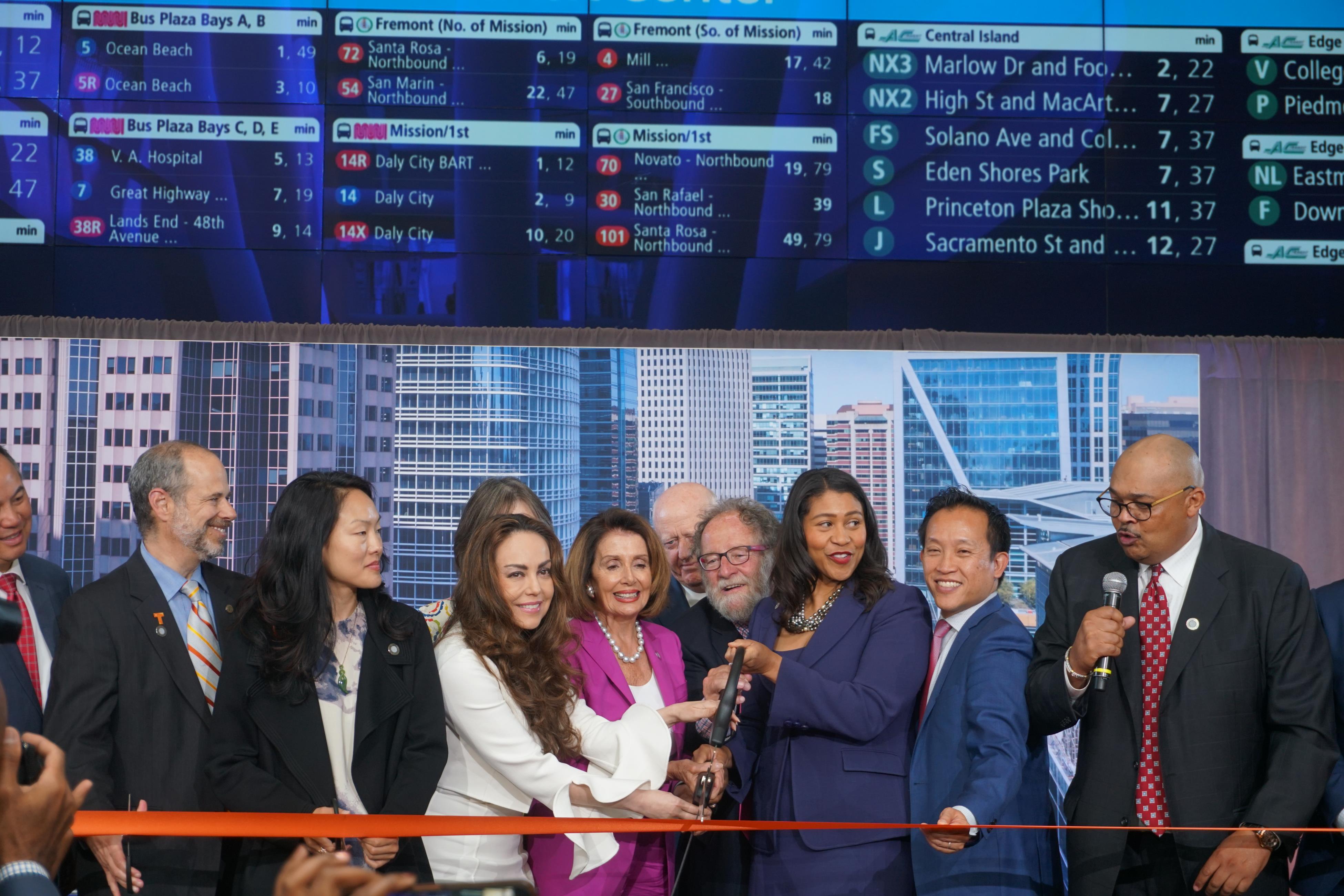 Congresswoman Pelosi joined Mayors London Breed, Willie Brown, local officials, and community members to celebrate the opening of the new Salesforce Transit Center.
The Transit Center connects our city with vibrant public spaces where all can gather, play and thrive, together. It brings beauty and art to our neighborhoods. It gets people out of their cars, reducing emissions and safeguarding clean air and clean water for generations to come. And it moves us forward – together.
When I was Speaker, House Democrats passed the American Recovery and Reinvestment Act one week and one day after President Obama's inauguration, which provided a critical $400 million investment to launch this nationally significant project, creating tens of thousands of good-paying local jobs and improving quality of life for the Bay Area.
We must continue to bring better infrastructure to our beloved city and to communities across the country. Democrats have A Better Deal to Rebuild America For The People that means investing $1 trillion and creating more than 16 million new good-paying American jobs.  Our dynamic city must continue to lead the way forward, as we deliver these transformational investments in America's infrastructure.
California Wildfires
As a Californian and an American, I am heartbroken by the devastation of the wildfires across California. Our hearts are with the loved ones of the ten people whose lives were cruelly cut short by the fires, and all those whose lives have been upended by this disaster.
We are all immensely grateful to the tens of thousands of firefighters and first responders from California, other states and other countries currently risking their lives and safety to battle wildfires throughout our state.  Our firefighters are our nobility, and their courage on the frontlines of these blazes is an act of profound heroism.
The Administration's Major Disaster Declaration for Shasta County takes an important first step to combat this disaster, but the President must expand this declaration to the other counties ravaged by wildfires, as Governor Brown has requested.  The Administration also must start taking real, urgent action to combat the threat of the climate crisis, which is making the wildfire season longer, more expensive and more destructive.
The country stands in solidarity with the families and communities devastated by this disaster, and we pledge to work tirelessly to help Californians heal, recover and rebuild.
 

A constituent contacted my office to discuss his problem with the San Francisco Veterans Affairs Medical Center (SFVAMC) regarding a bill that he believed he was wrongly charged for. He informed my office that he should not be obligated to pay for the services rendered to him by the SFVAMC because he was receiving Supplemental Security Income (SSI). This bill would have imposed an enormous financial burden upon him because he is a low-income individual, and his SSI benefits would have been reduced to pay for these services.  After my office reached out to the SFVAMC, they determined that he was without fault. The SFVAMC found that he was wrongly billed for the services he received after reviewing his eligibility under SSI.

Caseworkers in my San Francisco office work to address any problems or concerns you may have with a federal government agency. To submit a Casework Authorization Form, please visit my website.
Please feel free to forward this information to your family and friends. To learn more about these efforts, to express your views, or to sign up for email updates, please visit my website. I am also on Twitter at http://twitter.com/NancyPelosi.
 


Sincerely,

Member of Congress