#MiddleClassFirst
We Are One
Our country took a historic step forward to protect LGBT Americans as President Barack Obama signed an executive order that bans discrimination on the basis of sexual orientation and gender identity in federal contracts. With this executive order, we reaffirm the great promise of our nation: E pluribus unum - 'Out of many, we are one.' 

Each generation of Americans moves us closer to fulfilling that promise. By advocating for fairness and speaking out against injustice, we have an opportunity to continue that legacy. The President's executive order represents long-awaited progress for LGBT Americans, but we must act to ensure these basic standards of fairness apply to all Americans. Discrimination has no place in our nation – not in our workplaces, not in our schools, not in our society and not in our government. 

To follow Congresswoman Nancy Pelosi on twitter, please click here.
Jumpstart Lifelong Learning
Today, House Democrats joined with students and advocates to discuss key initiatives that will strengthen lifelong learning in our nation – a key pillar of the "Middle Class Jumpstart" agenda to strengthen the middle class with good jobs, increased opportunities for women and education that is more affordable and accessible for working families.

Education is the greatest investment that individuals can make in themselves and our nation can make in our future. House Democrats know that nothing returns more to the Treasury than investments in education. That is why while House Republicans voted to limit access to quality early childhood education, we have been working to pass the Strong Start for America's Children Act that will place our children on a path to lifelong learning. Instead of protecting bank profits, we will address the crushing burden of student loan debt by passing the Bank on Students Emergency Loan Refinancing Act, which would allow millions of Americans to refinance their college loans to new, lower rates. 

House Democrats will continue our work to empower women, workers and young people. Together, we will jumpstart the middle class by building an economy that works for everyone, not just the privileged few.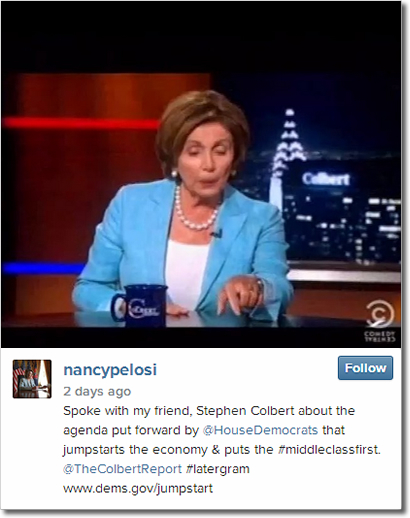 To follow Congresswoman Pelosi on Instagram, please click here.
To watch the full episode of Congresswoman Nancy Pelosi on the Colbert Report, click here.
Please feel free to forward this information to your family and friends. To learn more about these efforts, to express your views, or to sign up for email updates, please visit my website. I am also on Twitter at http://twitter.com/NancyPelosi.
 


Sincerely,

Member of Congress