Middle Class Jumpstart
Middle Class Jumpstart
This week, as House Republicans gathered to discuss their lawsuit against the President, I joined with House Democrats on the Capitol steps to announce a bold new economic agenda: the Middle Class Jumpstart. In the first 100 days of 2015, a Democratic House Majority will act to put the middle class first. Our three-pronged plan will advance policies that promote job creation, support opportunities for women and increase accessibility to affordable education for working families.

Our Agenda pays tribute to the middle class – the most productive workers in the world. With efforts like 'Make it in America' and 'Build America Bonds Act', we will provide tax incentives for companies that create good-paying jobs here at home and invest in America's infrastructure for future generations. We will raise the minimum wage and ensure that every American receives fair compensation for their work. Together, we will advance the ideals of entrepreneurship and innovation that keep America number one.

One of the best actions we can take to ensure the security of our families and our nation is to promote the economic, social, and political success of women. With House Democrats agenda, "When Women Succeed, America Succeeds", we unleash the power of women by advancing the policies of fair pay, paid sick leave, and affordable child care. Rather than rolling back women's rights and limiting their opportunities, Congress must embrace the notion that justice for women means growth for our economy and enact policies so that women can achieve the equal rights, equal treatment, and equal opportunities that they deserve. 

To follow Congresswoman Nancy Pelosi on twitter, please click here.
In order to keep America at the cutting edge, Congress must advance initiatives that increase access to affordable education. Under the Middle Class Jumpstart, we will pass the "Bank on Students Emergency Loan Refinancing Act" and the "Strong Start for America's Children Act", making the values of lifelong learning a reality for generations of Americans. 

For too long, House Republicans have stacked the deck for the wealthy, all at the expense of middle class families. With the Middle Class Jumpstart, we will put the middle class above special interests. Together, we will promote the prosperity of America's families and strengthen the middle class — the backbone of our democracy.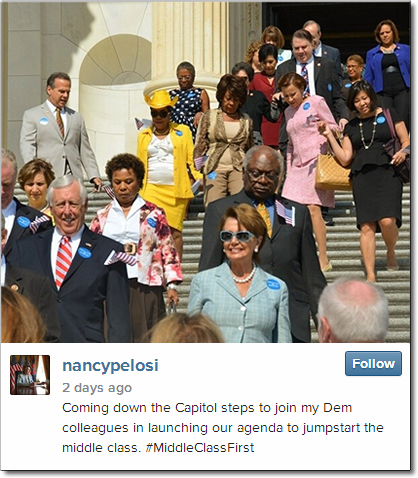 To follow Congresswoman Pelosi on Instagram, please click here.
Please feel free to forward this information to your family and friends. To learn more about these efforts, to express your views, or to sign up for email updates, please visit my website. I am also on Twitter at http://twitter.com/NancyPelosi.
 


Sincerely,

Member of Congress