McConnell and The Senate Must Act Now
Preventing Gun Violence 
This week, Congresswoman Jackie Speier and I hosted a town hall with Shannon Watts, the founder of Moms Demand Action, Dr. Nadine Burke Harris, and AJ Santiago to hear from San Franciscans and discuss gun violence prevention and the House Democrats' For the People agenda.
Within the first 100 days of the 116th Congress, our House Democratic Majority swiftly passed H.R. 8, the Bipartisan Background Checks Act, and H.R. 1112, the Enhanced Background Checks Act, standing with more than 90 percent of Americans who support gun violence prevention legislation.  Yet, Senator McConnell — calling himself the "Grim Reaper" — refuses to take up this lifesaving, bipartisan legislation.  That is why, again and again, I have urged the President to bring the Senate back into session to move this legislation forward and to save lives.
Gun violence reaches into the lives of Americans in every community, including ours. At our town hall, we were deeply moved by the words of 17-year-old AJ Santiago, who lost her best friend, Day'von Hann, to gun violence near his Mission District home in July. Too many families in our nation bare the pain of lost loved ones like AJ, and this heartbreak ripples through our communities with each new gun death.
We must all continue to turn up the pressure, make this issue "too hot to handle," and force the Senate to finally pass our commonsense, bipartisan, House-passed background checks legislation.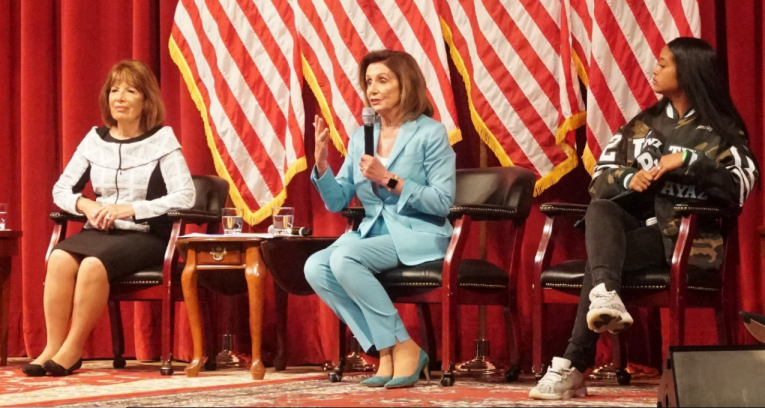 Congresswomen Nancy Pelosi and Jackie Speier hold a community town hall meeting on gun violence prevention and the For The People agenda at Abraham Lincoln High School. At the meeting they discussed the need for strong bipartisan, common sense gun violence prevention legislation; and were joined by California Surgeon General Dr. Nadine Burke Harris, Moms Demand Action founder Shannon Watts, and local gun violence survivor A.J. Santiago.               
Praying for Brandon Lee 
As we held our town hall on gun violence prevention at Lincoln High School on Tuesday, let us take a moment to pray for San Franciscan Brandon Lee, a Lincoln HS alumnus. Brandon is fighting for his life in a hospital in the Philippines after being brutally targeted for his work fighting for indigenous peoples' rights and all human rights in that country. While I must respect his and his family's privacy, I want our local community to know my office has been in touch with his family and the U.S. Embassy and we are engaged on Brandon's case.
Labor Day 
Labor Day offers us all an opportunity to reflect on the innumerable contributions that working Americans have made to strengthen our nation and bring us closer to our founding promise of liberty, equality and justice for all. The hard-working men and women of labor are the backbone of our democracy and the foundation of our strength, safeguarding the right to negotiate a better wage, retire with dignity, work in clean and safe conditions, access quality, affordable health care and ensure inclusive workplaces.

While the Trump Administration continues its relentless anti-worker campaign, our Democratic Majority has passed bold legislation to lift up and build a brighter future for all Americans. In our first 200 Days, Democrats passed the Paycheck Fairness Act to close the gender wage gap and reaffirm that equal work deserves equal pay.  After more than a decade without an increase to the federal minimum wage, we passed the Raise the Wage Act to gradually increase the minimum wage to $15 an hour and give up to 33 million Americans a long-overdue raise. We passed the bipartisan Butch Lewis Act to protect the financial security of American families and deliver justice to 1.3 million workers and retirees facing devastating cuts to pensions earned over a lifetime of hard work.  Lastly, we secured robust funding for the Department of Labor and passed an historic pay raise for the 2 million troops and families who bravely serve our country.

This Labor Day, and every day, we remember that America's middle class has a union label on it, and we reaffirm our unending commitment to honor their hard work with decisive action to safeguard the progress they have forged for all workers. To fulfill our promise to hard-working Americans, Democrats will continue fighting For The People to lower health care costs and the price of prescription drugs, raise wages by rebuilding America with green, modern infrastructure and clean up corruption to ensure Washington works for everyone.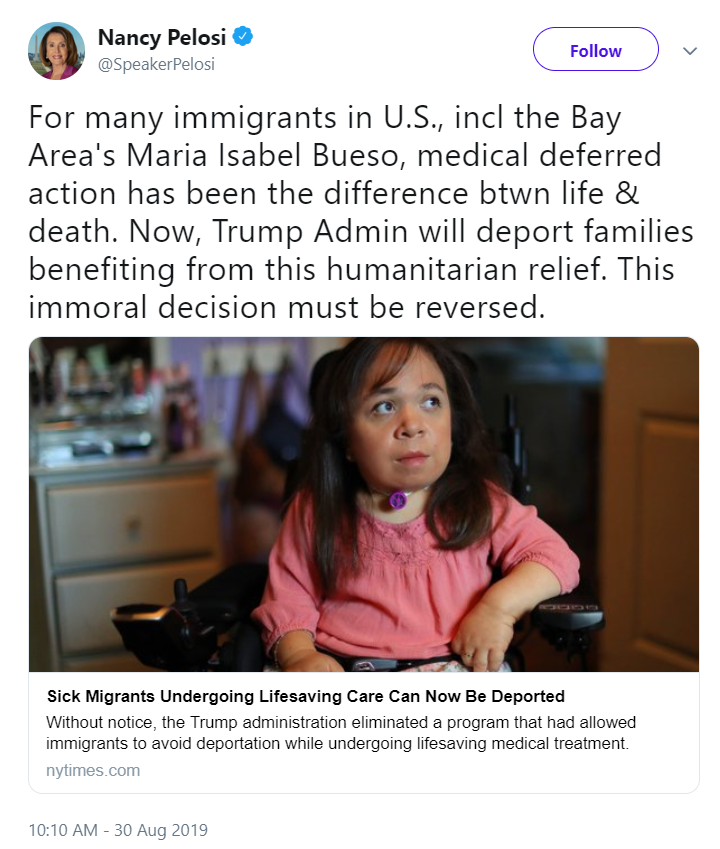 My office recently assisted a tenant with a voucher through the San Francisco Housing Authority (SFHA). She contacted our office because she was facing pending eviction from her apartment despite her landlord not making necessary repairs to the property. Our office contacted SFHA on her behalf and conveyed the details of the situation. As a result, SFHA worked to ensure the landlord's compliance with property repairs, which were eventually completed.

Caseworkers in my San Francisco office work to address any problems or concerns you may have with a federal government agency. To submit a Casework Authorization Form, please visit my website.
Please feel free to forward this information to your family and friends. To learn more about these efforts, to express your views, or to sign up for email updates, please visit my website. I am also on Twitter at http://twitter.com/NancyPelosi.
 


Sincerely,

Member of Congress