Lifeline
This week the nonpartisan Congressional Budget Office (CBO) released a report showing Republicans' plan to repeal the Affordable Care will be nothing less than a nightmare for the American people. If successful in repealing the ACA, health care costs will explode, Americans in the individual market will see their premiums double by 2026, and the number of uninsured Americans will surge by 18 million in the first year alone and by 32 million by 2026.  
Republicans need to wake up to the brutal impact that repealing the ACA will have on the lives of their constituents. Behind each of these statistics are stories of millions of Americans whose lives hang in the balance. This past week we honored Dr. Martin Luther King, who once said that "of all the forms of inequality, injustice in health care is the most shocking and inhumane." Let us vow to continue Dr. King's legacy and insure equitable healthcare for all Americans.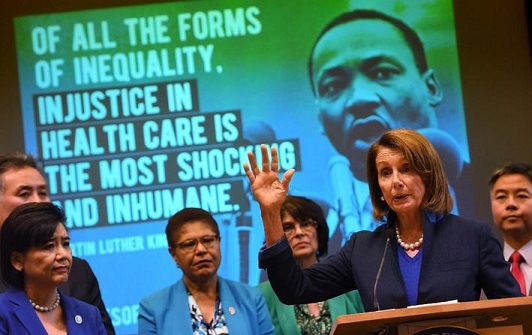 Congresswoman Nancy Pelosi speaks beside fellow Democrats at a Los Angeles event to protect the Affordable Care Act. 
While President-elect Trump promises 'insurance for everybody,' the Majority in Congress ismoving to destroy the health coverage of tens of millions of Americans and drive up costs for millions more.  This plan isn't repeal and delay, or repeal and replace – it's cut and run.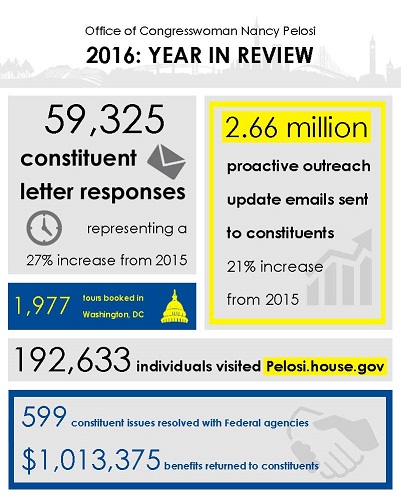 Helping You 
Whether you need help with a federal agency, would like to order a flag, are requesting tours and tickets for a visit to Washington DC, my office is here to serve you. 
 

CCSF Earns Accreditation Approval 
This week, the cloud of accreditation and uncertainty was 

lifted regarding the City College of San Francisco. CCSF's academic credentials have never been in doubt, and with this news the doors of this bedrock institution will remain open for thousands of San Franciscans looking to pursue a higher education, job training and lifetime learning

.
                                                                                      My constituent had sponsored his son and son's family to immigrate to the United States from war-torn Yemen. The son had his consular interview last October and was asked to provide additional documentation, which he promptly turned in to the Embassy the following day. After waiting several months, my constituent's son noticed that the State Department indicated his family's cases were ready for visa issuance, but his case remained pending. Unable to obtain a response from the U.S. Embassy, my constituent reached out to my office for assistance. My staff contacted the U.S. Embassy and was able to ascertain that my constituent's son's case was, in fact, ready to be issued. Very shortly thereafter, the visas were issued, and my constituent will soon be reunited with his son, daughter-in-law, and his grandchildren. 

Caseworkers in my San Francisco office work to address any problems or concerns you may have with a federal government agency. To submit a Casework Authorization Form, please visit my website.
Please feel free to forward this information to your family and friends. To learn more about these efforts, to express your views, or to sign up for email updates, please visit my website. I am also on Twitter at http://twitter.com/NancyPelosi.
 


Sincerely,

Member of Congress