#LGBTPride
LGBT Pride Month 
LGBT Americans have long been on the frontlines in the fight for equality for all Americans. In commemorating LGBT Pride Month throughout June, we honor courageous citizens who combat injustice and recommit our efforts to creating a stronger, more inclusive democracy. We recognize our shared progress to ensure equality for LGBT Americans – in Congress to the Supreme Court, from state legislatures to local courthouses – by remaining vigilant in confronting bigotry and remaining hopeful for a better future for all people, regardless of sexual orientation or gender identity. 

As we mark LGBT Pride Month, we remain mindful that our work continues in the United States and around the world until all people have access to life, liberty and the freedom to pursue happiness regardless of who they are, how they look, or who they love. 
 
Nancy Pelosi 
@NancyPelosi

---

To follow Congresswoman Pelosi on twitter, please click here

.

Tiananmen: Honoring Those Who Marched 
On the 26th anniversary of the Tiananmen Square Uprising observed on June 4th, the world remembers Chinese freedom fighters massacred while advocating for the rights, dignity and respect that all people deserve. The students and workers from all backgrounds who marched on Tiananmen Square live on in our shared efforts to secure human rights and promote freedom of expression for all Chinese citizens and people around the world.

As we remember the bold citizen who stood before a row of tanks, workers who peacefully marched, and students who erected the Goddess of Democracy statue in Tiananmen Square, we must also remember contemporary political prisoners, women's rights activists, writers, people who seek to worship without fear, and others persecuted on Chinese soil. Whether in Tiananmen Square or in Tibet, the U.S. Congress must continue to confront human rights abuses wherever they occur.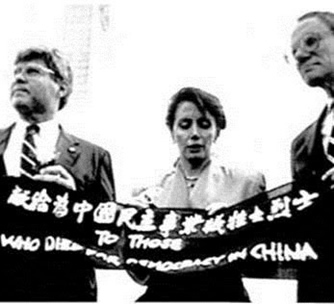 In 1991, Congresswoman Nancy Pelosi stood in Tiananmen Square holding a banner that read, "To those who died for democracy in China", in honor of the Chinese men and women who were killed in the Tiananmen Square Massacre.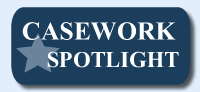 I was recently contacted by a constituent who immigrated to the United States from Morocco in 2010 and subsequently applied to bring over her daughter. Her daughter's case had been inexplicably delayed for several years, and when her daughter was eventually scheduled for an interview at the U.S. Consulate, she was told that because she was now over the age of 21, she was no longer eligible to immigrate in the same visa category. My staff contacted the Consulate and requested that the case be reviewed, taking into account any possible protections afforded under the Child Status Protection Act. Shortly thereafter, the Consulate requested additional documentation from my constituent, and her immigrant visa was processed and approved.

Caseworkers in my San Francisco office work to address any problems or concerns you may have with a federal government agency. To submit a Casework Authorization Form, please visit my website.
Please feel free to forward this information to your family and friends. To learn more about these efforts, to express your views, or to sign up for email updates, please visit my website. I am also on Twitter at http://twitter.com/NancyPelosi.
 


Sincerely,

Member of Congress