Launching an Impeachment Inquiry
The President Betrays the Constitution & Our National Security
This week, the American people learned that President Trump engaged in behavior that undermines the integrity of our elections, the dignity of the office he holds and our national security.  The White House's released notes of the call between President Trump and the President of the Ukraine confirm that the President personally abused his office and urged a foreign actor to manufacture dirt on his political rival.  The President has tried to make lawlessness a virtue in America and now is exporting it abroad.
The next day, a whistleblower complaint, which was deemed to be both of "urgent concern" and "credible" by the Intelligence Community's Inspector General, was released to the public.  In this complaint, the whistleblower stated his concern that "the President of the United States is using the power of his office to solicit interference from a foreign country in the 2020 election," actions that "pose risks to U.S. national security."  The whistleblower complaint also reveals the White House's cover-up, specifically, its attempts to "'lock down' all records of the call, especially a word-for-word transcript."  The complaint reports of the repeated "abuse" of an electronic records system designed to store classified, sensitive national security information, which the White House used to hide information of a political nature.
Congresswoman Nancy Pelosi speaks on Morning Joe with Joe Scarborough and Mika Brzezinski  about the impeachment inquiry and lowering prescription drug prices.
The actions of the President make it inevitable that we have to go forward – patriotically, prayerfully, and purposefully.  What is important now are the facts.  What the President has done is lawlessness without precedent, and his actions confirm the need for an impeachment inquiry, which will take us down the path of following the facts.
The President will be held accountable. The House will protect the Constitution from all enemies, foreign and domestic. No one is above the law.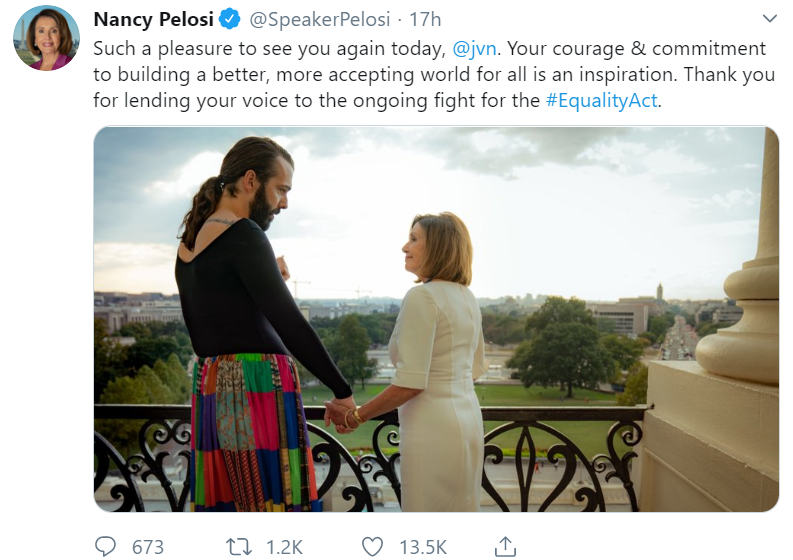 My office recently assisted a constituent in getting a permanent resident card for his wife with the United States Citizenship and Immigration Services (USCIS). He contacted my office because he was diagnosed with Stage VI cancer and would like his wife to receive a permanent resident card to visit him in the United States. My office reached out to USCIS on his behalf and the office was able to expedite his wife's interview and application.
Caseworkers in my San Francisco office work to address any problems or concerns you may have with a federal government agency. To submit a Casework Authorization Form, please visit my website.
Please feel free to forward this information to your family and friends. To learn more about these efforts, to express your views, or to sign up for email updates, please visit my website. I am also on Twitter at http://twitter.com/NancyPelosi.
 


Sincerely,

Member of Congress