Jumpstart Jobs
Jumpstart San Francisco
Last month, House Democrats gathered on the steps of the Capitol to unveil our Middle Class Jumpstart action plan to create good paying jobs, expand access to affordable education, and unleash the full potential of America's women. The construction of the Central Subway right here in San Francisco represents the first pillar of that agenda – building good jobs at home, here in America. The Central Subway construction is creating tens of thousands of jobs for our city and our region. When completed, it will provide a long-term benefit to businesses and tourism in these neighborhoods. Once again, San Francisco is leading the way for the nation. 

I was proud to join Mayor Ed Lee, Muni Director Ed Reiskin, and SF Made Executive Director Kate Sofis at the future site of the Yerba Buena/Moscone Station of the Central Subway on Tuesday. Connecting the great city of San Francisco from one end to the other has been a long process for us, but we've made progress every step of the way. We've built consensus, engaged the local community and asked for input, and worked with five presidents over the course of 25 years to ensure the success of this project. Our hopes are riding on the Third Street Rail and on the Central Subway to be a model to the country for economic development, while we again improve the quality of life, increase commerce, and create good paying jobs for many people. 

When we invest in building America, we create good-paying jobs today and strengthen our competitiveness for tomorrow. Our Middle Class Jumpstart recognizes the immense importance of initiatives like this, building roads, bridges, broadband and clean energy – paid for by closing corporate tax loopholes. By closing the tax loopholes for corporations that ship jobs overseas and providing tax incentives to create good paying-jobs here in the United States, we will bring our jobs back home. And it's time to Make It In America. Our new Muni light rail vehicles will be built right here in California – creating American jobs with American investments.

Creating good jobs includes making sure that all workers are paid enough to support themselves and their families. It is an outrage that someone in America with a full-time job making the federal minimum wage still has to raise their family in poverty. As San Francisco continues to support progress for a strong minimum wage, we must help the rest of the country catch up: raise the federal minimum wage to $10.10 an hour.

It's time to jumpstart the middle class. And there is no better place to start than right here in San Francisco.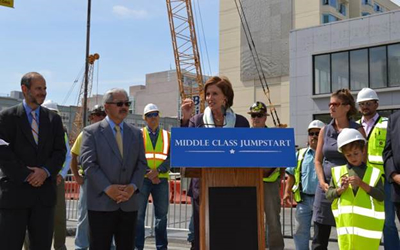 Congresswoman Nancy Pelosi joins Mayor Ed Lee, Muni Director Ed Reiskin and SF Made Executive Director Kate Sofis at the site of the future Yerba Buena/Moscone Station of the Central Subway to discuss the Middle Class Jumpstart Agenda.
Happy 79th Birthday, Social Security!
On August 14, 1935, President Franklin D. Roosevelt signed Social Security into law and the United States made a landmark promise to its citizens: that a lifetime of hard work will be met by the security of a stable retirement.

In the nearly eight decades since its enactment, Social Security has stood as a cornerstone of economic certainty for millions of America's seniors and families. Every day, Social Security has a real, tangible impact on the lives of San Franciscans. Over 100,000 residents of our beautiful city receive monthly benefits, totaling over $116 million dollars a month.

When Democrats created Social Security, we pledged to defend the right of our nation's seniors to pursue a life of liberty and happiness. Democrats have stood by the promise of Social Security since its inception, and we will continue to protect and strengthen Social Security for the generations to come. 

To follow Congresswoman Nancy Pelosi on Twitter, please click here.
A Healthier You
Our skin acts as a barrier for disease and infection, and protects our internal organs from injury, but unfortunately, many of us take it for granted as one in five Americans will develop skin cancer over the course of their life. In an effort to stop the ever-increasing incidence of skin cancers in the United States, the U.S. Surgeon General recently released a Call to Action to Prevent Skin Cancer. In late July, I was proud to join a unanimous House of Representatives in passing H.R. 4250, the Sunscreen Immigration Act to modernize and streamline the Food and Drug Administration review process for sunscreen ingredients.

To reduce your risk of skin cancer, seek shade, wear protective clothing, and apply sunscreen every time you go outside. Unlike other cancers, most skin cancers can be seen on the surface of the skin. With new tools from the Academy of Skin Dermatology Association, you can learn how to check for suspicious moles and lesions with the skin self-exam video  and body mole map. You may also be interested in visiting Dermatology A to Z, to learn the signs, symptoms and treatments for a variety of skin diseases. If something on your skin is changing, itching or bleeding, schedule an appointment with a board-certified dermatologist. The first line of defense against skin cancer starts with you. 
Please feel free to forward this information to your family and friends. To learn more about these efforts, to express your views, or to sign up for email updates, please visit my website. I am also on Twitter at http://twitter.com/NancyPelosi.
 


Sincerely,

Member of Congress