Investigate Now
An Abrupt Firing 
The President's sudden and brazen firing of the FBI Director raises the ghosts of some of the worst Executive Branch abuses.  We cannot stand by and watch a cover-up of the possible collusion with a hostile foreign power to undermine American democracy. 
It is clear that in the 2016 campaign, the Russians interfered with the election by hacking and leaking information.  It is also clear that during the campaign there were repeated contacts between the Russians and individuals associated with the Trump campaign.  It is further clear that the public deserves to know the extent to which there was collusion between the Russians and the Trump campaign to influence the result of the election.
I am calling upon Speaker Ryan and Republicans in Congress to join Democrats to support H.R. 356, the Protecting Our Democracy Act to create an outside, independent commission to investigate the Trump-Russia connection.  One hundred percent of House Democrats support this bipartisan bill.
Speaker Ryan must call up this legislation immediately.   If Republicans continue to work to hide the truth from the American people, it will be necessary for Democrats to file a discharge petition to force a vote on the Swalwell-Cummings measure.
I hope we can move forward in a bipartisan way to protect the integrity of our electoral system and the rule of law, both of which are fundamental to our democracy.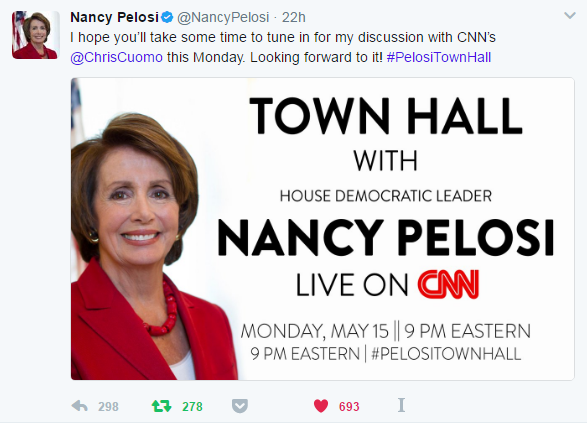 Moral Authority
This week I had the distinct privilege to meet with His Holiness the Dalai Lama in Dharamsala, as part of a bipartisan Congressional delegation. Our delegation came in His Holiness' spirit of faith and peace, once again affirming our commitment to the Tibetan people, to their faith, their culture and their language.
The brutal tactics of the Chinese Government to erase the religion, culture and language of the Tibetan people challenge the conscience of the world.  We must meet that challenge.  If freedom-loving people do not speak out against oppression in Tibet, because of China's economic strength, then we have lost all moral authority to speak on behalf of human rights anywhere in the world.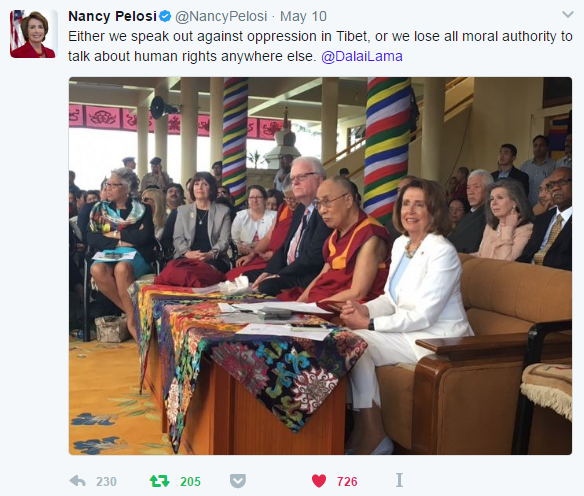 San Francisco Small Business Week - May 15th to May 19th 
One of the most optimistic steps a person can take is to start a small business. It is a risk. It is entrepreneurial. It is in the spirit of our great country and our city. By offering small businesses the tools and resources to thrive in the future, we are laying the foundation for our country's economic security and placing a down payment on our long-term economic growth. 

 

 

  Visit the San Francisco Small Business Week event page  or the SBA Entrepreneurship Center's Calendar to view all of the offerings..

 

 
                                                                                                  My constituents, a married couple, who have been living in the United States on work visas, applied for permanent residency in early 2015, and were eventually interviewed by U.S. Citizenship and Immigration Services (USCIS) in early 2016. At that time, they had been told by the interviewing officer that they could expect their permanent resident cards to be issued within several weeks. However, after waiting a whole year without receiving any feedback from USCIS, my constituents reach out to my office for assistance. My staff immediately sent an inquiry to USCIS requesting an update on the status of my constituents' case, and USCIS responded that it only needed a few updated documents to finish processing their applications for permanent residency. Shortly after my constituents submitted the additional documentation to USCIS, their permanent resident cards were mailed to them, giving my constituents peace of mind as they are now able to live and work in the United States unencumbered.
Caseworkers in my San Francisco office work to address any problems or concerns you may have with a federal government agency. To submit a Casework Authorization Form, please visit my website.

 
Please feel free to forward this information to your family and friends. To learn more about these efforts, to express your views, or to sign up for email updates, please visit my website. I am also on Twitter at http://twitter.com/NancyPelosi.
 


Sincerely,

Member of Congress