I'm In! Are You?
Free and Open Internet
President Obama's recent remarks encouraging the Federal Communications Commission to adopt clear rules protecting net neutrality on the Internet affirm that free and open access to the Internet is a bedrock right of the 21st century. The Internet cannot belong to the wealthy and well-connected; it must be an open space for innovation, entrepreneurship, and communication – a level playing field where success is founded on the best ideas, not the deepest pockets.

Millions of Americans have made their voices heard in support of net neutrality standards that preserve the freedom and opportunity of the Internet. I applaud President Obama's forceful leadership on this issue as he joins the courts in outlining a clear path forward for the FCC. The FCC must act swiftly to create clear and enforceable net neutrality standards so the Internet can continue to foster freedom and prosperity here in the United States and around the world.

The FCC must ensure that everyone has transparent access to the Internet without intentional delays in service or paid prioritization schemes. For the sake of our economy and our democracy, we must have strong rules that protect consumers and innovators and will safeguard fair, fast and equal access to the Internet. 

To follow Congresswoman Nancy Pelosi on Twitter, please click here.
Let's Act Now
It has been more than 500 days since the Senate passed comprehensive immigration reform legislation – more than two years since Speaker Boehner said he was confident immigration reform would get done. In that time, House Republicans have refused to allow a vote on the Senate's bipartisan immigration reform legislation, instead voting on multiple occasions to deport DREAMers. 

While there is no substitute for comprehensive legislation, it is clear that our country cannot afford to wait for Republicans to make good on their endless empty promises to act productively on immigration. Every administration since President Dwight D. Eisenhower has used broad authority in existing law to make our immigration system better meet the needs of our country and reflect our shared values. Presidents Ronald Reagan and George H.W. Bush took action to protect the spouses and children of people who received status under the 1986 Immigration Reform and Control Act – even though Congress explicitly chose not to grant status to them. 

Executive action is moral, legal and necessary. It is my hope that President Obama will use his broad and well-established authority generously and swiftly – acting to give immigrant families peace of mind heading into the holidays.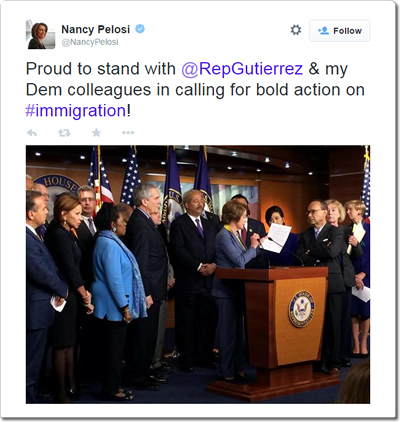 To follow Congresswoman Nancy Pelosi on Twitter, please click here.
Open Enrollment Begins Tomorrow
Covered California open enrollment begins tomorrow, November 15th, 2014 and continues through February 15th, 2015. Current Covered California plans must be renewed by December 15th to avoid coverage gaps.

Once you enroll in or renew your health care plan, help Covered California spread the word. Share the message with your friends and family by sending an email or posting the I'm In! Badge to your Facebook, Twitter, or Instagram. Together, we can ensure that every Californian has the chance to experience a bright and healthy future with affordable, quality health care coverage. 
Please feel free to forward this information to your family and friends. To learn more about these efforts, to express your views, or to sign up for email updates, please visit my website. I am also on Twitter at http://twitter.com/NancyPelosi.
 


Sincerely,

Member of Congress