Honoring Our Women Veterans
#WomenVets 
To celebrate Women's History Month, First Lady Michelle Obama and Dr. Jill Biden joined me at the Capitol to honor the service and sacrifice of America's women veterans. In particular, I was proud to recognize Brigadier General Wilma L. Vaught, U.S. Air Force (Retired), a trailblazing woman who gave nearly 30 years of service to our country and was one of the first women to become Brigadier General. 

Securing the right to serve has not come easy for women. Many military women have faced down the enemy abroad and discriminatory barriers at home. Many women in uniform have come home to a society that does not recognize or understand their service and heroism. All too often, our military women are the 'invisible veterans.' Yet, their bravery and determination are an inspiration to our nation.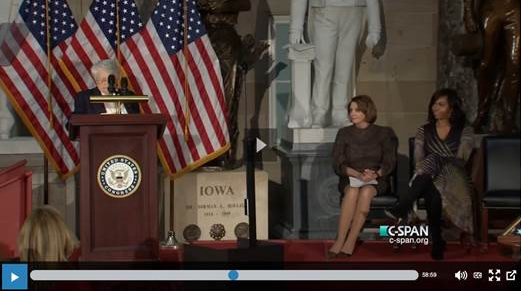 Congresswoman Nancy Pelosi hosts her annual Women's History Month reception with First Lady Michelle Obama and Dr. Jill Biden to honor Brigadier Wilma L. Vaught, U.S. Air Force (Retired) and all women veterans for their service to our country.

#WHM2016 
Each Women's History Month, we celebrate the courageous women who marched, organized, and advanced the promise of equality. Throughout American history, women have advocated for justice, broken barriers, defended our country, and defeated discrimination to create a better, more prosperous future for all.

As we celebrate the victories that women have won, we must keep making progress. That is why House Democrats are united for opportunity for all women and working families. When women succeed, America succeeds — which is why we will continue to advocate for policies that promote women's full participation in the workforce, including: equal pay for equal work, affordable child care, and the resources needed to bring bigger paychecks to the American people. 

Let us salute the contributions of women by fighting to preserve the victories we've won. Let us celebrate Women's History Month by striving to create equality of opportunity for all.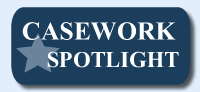 My constituent, a U.S. citizen, sponsored his spouse for permanent residency in the fall of 2014. Uncertain whether it would be better to apply for political asylum, his spouse simultaneously filed for asylum. After waiting one year without contact from U.S. Citizenship and Immigration Services (USCIS), my constituent contacted my office for assistance. My staff members were able to ascertain that the immigration file was in queue for an interview at the Asylum Office where there is a considerable backlog. Once this was discovered, the constituent was able to request that the file be transferred to the office that handles marriage based permanent residency applications. Shortly thereafter, my constituent and his spouse were interviewed, and the spouse was approved for permanent residency. 

Caseworkers in my San Francisco office work to address any problems or concerns you may have with a federal government agency. To submit a Casework Authorization Form, please visit my website.
Please feel free to forward this information to your family and friends. To learn more about these efforts, to express your views, or to sign up for email updates, please visit my website. I am also on Twitter at http://twitter.com/NancyPelosi.
 


Sincerely,

Member of Congress