Girls Just Want to Have Fun-damental Rights
My Body. My Choice.
Days after the anniversary of Roe v. Wade and after millions of women marched to have their voices heard, the Trump administration is continuing their dangerous crusade to put the government in charge of women's bodies and put bureaucrats in charge of families' private health decisions.
While every single House Republican voted to limit women's reproductive health care options – including an attempt to take away the comprehensive private health insurance coverage millions of women already have – Democrats will continue to stand our ground and fight to defend a woman's constitutional right to make her own reproductive health decisions, in consultation with her family, her physician, and her faith.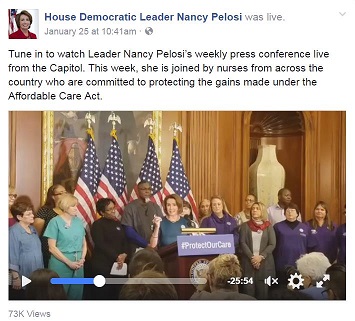 Now more than ever, all Americans who value freedom must stand together and reject schemes to return our country to the days when women's rights were not recognized and honored under the law. House Democrats will continue to lead the effort to defend reproductive choice andprotect the rights of women across the country.  
Every American woman should be able to make her own health decisions with dignity and respect, and without the interference of politicians or employers.
Wishing You a Prosperous Lunar New Year! 
This Lunar New Year, as Asian and Pacific Island Americans gather with family and friends to welcome the Year of the Rooster.As AAPI families in San Francisco, across America and around the world welcome the Year of the Rooster, we join in celebrating family, community and the hope of a prosperous New Year. 
In the streets of San Francisco and across America, Asian American and Pacific Islander communities remind us that the beauty is in the mix.This Saturday, let all Americans join in celebrating the contributions AAPI families have made to building a stronger America for all.
Though hard work and challenges lie ahead, we resolve to defend the diverse tapestry of traditions that enrich our great democracy. As a new lunar year begins, we will continue to fight for comprehensive immigration reform that honors our values and our heritage as a safe haven for people from around the globe.
Click Here to Find Lunar New Year Celebrations Near You
                                                                                         My constituent, a Senior, had been employed past the age of 65 and continued to receive her healthcare insurance through her employer. However, when she recently applied for Medicare Part B, she was told that she would be penalized for late enrollment. Therefore, my office contacted the Social Security Administration (SSA) requesting that it review my constituent's employment records showing that she has been working up until now and received insurance through her employer. After reviewing my constituent's records, SSA updated her employment period to show that she did not enroll late. Now my constituent has access to the healthcare she needs with no penalty fee.
Caseworkers in my San Francisco office work to address any problems or concerns you may have with a federal government agency. To submit a Casework Authorization Form, please visit my website.
Please feel free to forward this information to your family and friends. To learn more about these efforts, to express your views, or to sign up for email updates, please visit my website. I am also on Twitter at http://twitter.com/NancyPelosi.
 


Sincerely,

Member of Congress