Freedom from Fear
Destroying ISIS 
On Wednesday night, the American people heard President Obama present a concrete and forceful strategy to degrade and destroy ISIS.

I commend the President for his persistent, strong leadership in establishing a government of reconciliation in Iraq, and in his diplomatic efforts to have coordination among our NATO allies and regional powers. Working with a broad coalition of partners and without using U.S. combat forces on the ground, we will lead a comprehensive counter-terrorism strategy to dismantle the threat ISIS poses to the region and the United States.

I appreciate the ongoing consultations from the Administration and the President's efforts to secure strong Congressional support in the fight against ISIS.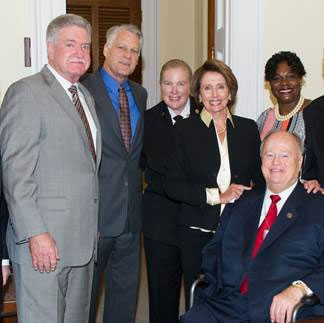 Congresswoman Nancy Pelosi joins with President of the International Association of Fire Fighters Harold Schaitberger, 9/11 Commission Member and Ambassador Tim Roemer, San Francisco Firefighters Chief Joanne Hayes-White, and Vietnam War Army veteran and former Senator Max Cleland for the Congressional Gold Medal Ceremony honoring the Fallen Heroes of September 11th.
Protecting the Open Internet
In the wake of a DC Circuit court decision that eliminated a key provision in the 2010 Open Internet Rules, I sent a letter to Federal Communications Commission (FCC) Chairman Tom Wheeler, commending his quick response in restoring these rules and urging the FCC to take action so that innovators and consumers enjoy robust protections for net neutrality and the open Internet.

The American people believe in preserving an open Internet where anyone can bring an idea to the table without seeking permission or paying a toll to each internet provider. During the initial round of comments, over a million Americans directly contacted the FCC and millions more signed petitions. In fact, many Americans filed comments with the agency over the broadband connection on their mobile phone or tablet. Fortunately, the court's decision gave the FCC a clear path forward to prohibit discrimination and paid prioritization, allowing the Commission to protect consumers and innovators with strong, but tailored rules defending the open Internet from a wide variety of threats.

Success should be founded on merit and good ideas; not on who has the deepest pockets. We must not allow broadband providers to relegate competing ideas, products, and services to slow, congested speeds. We must protect the freedom, entrepreneurship and openness which define the Internet and American innovation.

Freedom from Fear
As we mark the 20 year anniversary of signing the Violence Against Women Act into law, we are reminded that every woman – regardless of the color of her skin or where she was born – deserves to feel safe at home, at work, and while walking down the street. 

Sexual and domestic violence have no place in our society. That's why, as part of the Middle Class Jumpstart, House Democrats will strengthen the Violence Against Women Act and make increased investments in shelters and other life-saving anti-domestic violence services. As we mark this anniversary, let us renew our commitment to even greater progress for the victims of these crimes. 

To follow Congresswoman Nancy Pelosi on Twitter, please click here.
Please feel free to forward this information to your family and friends. To learn more about these efforts, to express your views, or to sign up for email updates, please visit my website. I am also on Twitter at http://twitter.com/NancyPelosi.
 


Sincerely,

Member of Congress