Fixing Our Broken Democracy
The Promise of Our Democracy
The American people and our young new Members have made their priorities clear: when Democrats take the gavel, delivering a better deal for our democracy will be H.R. 1.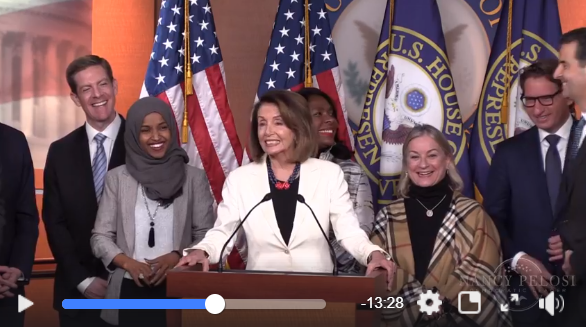 Congresswoman Pelosi held a press conference today with the newly elected Members of Congress to discuss H.R. 1, a bold new reform package to restore the promise of our democracy.
H.R. 1 is a bold reform package to restore the promise of our democracy – a government of, by and for the people.  We will reduce the role of money in politics, restore ethics and integrity to government, and strengthen the Voting Rights Act.  With bold action to fix our democracy, we can renew Americans' trust in Congress to drive progress in the issues that matter most in their lives.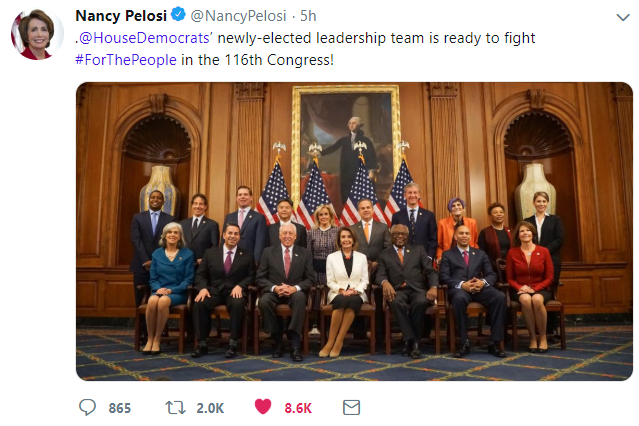 Remembering Mayor George Moscone and Supervisor Harvey Milk 
Forty years ago, in a moment of horror and heartbreak, San Francisco lost two beloved sons and our nation lost two visionary, progressive leaders. Mayor Moscone and Supervisor Milk's lives were dedicated to expanding opportunity and promoting justice.  Their vision and integrity helped ensure that all voices were heard and that every member of our community had a seat at the table.  
In San Francisco, we like to say 'the beauty is in the mix,' and thanks to Moscone and Milk's pioneering work, our city and our government more fully reflect the beauty and diversity that is our strength.  It was a true blessing to know Harvey Milk and to see first-hand his and Mayor Moscone's exuberant, expansive and compassionate leadership.  They were beacons of hope to us all, and they transformed the political and social culture of San Francisco for all time.
Today, our communities face an unprecedented assault on our guiding values of liberty, justice and equality.  Our new House Majority will proudly honor Moscone and Milk's legacies by expanding economic opportunities, protecting our patriotic Dreamers and passing the Equality Act to remove all doubt that sexual orientation and gender identity warrant full civil rights protections, not just in the workplace but every place.  Four decades after Moscone and Milk's work was so tragically cut short, we proudly reaffirm our shared mission to oppose bigotry and discrimination, and advance progress for all Americans.
 
My office recently assisted a veteran regarding his disability benefits claim with the Department of Veterans Affairs (VA). He had contacted our office because his claim was reopened after an initial denial in 2017, but he had not received any updates. Our office contacted the VA on his behalf and conveyed the details of his situation. As a result, the VA rendered a decision in favor of my constituent, awarded him a $29,000 retroactive payment, and resumed his monthly benefits.
  Caseworkers in my San Francisco office work to address any problems or concerns you may have with a federal government agency. To submit a Casework Authorization Form, please visit my website.
Please feel free to forward this information to your family and friends. To learn more about these efforts, to express your views, or to sign up for email updates, please visit my website. I am also on Twitter at http://twitter.com/NancyPelosi.
 


Sincerely,

Member of Congress