Federal Workers Are Not Bargaining Chips
Re-opening Government
Democrats are pleased that we have reached an agreement to re-open the government after the longest shutdown in American history.  After families across the nation were forced to suffer the cruel impacts on their financial security, health and well-being for more than a month, this agreement allows workers to receive their paychecks and the backpay they deserve.  
However, it is sad that it has taken this long to come to this obvious conclusion.  Shutdowns are disasters, not bargaining chips or negotiating tools in a disagreement over policy.  For more than a month, hard-working Americans have been held hostage by the Trump Administration, missing their bills and shaking the foundation of their financial security.  Across the country, countless Americans have lost access to critical services for their health and safety.  And our economy and our national security have been needlessly damaged.  
We look forward to working in a bipartisan, bicameral way to pass all of the bills to fund the government in a way that honors our values, respects our workers and protects our borders.  We will continue to do everything we can to restore certainty to the lives of the hard-working men and women who have been forced to suffer during this needless shutdown.
Congresswoman Pelosi delivered her weekly press conference where she discussed the Trump Shutdown and the House Democrats' efforts to re-open government.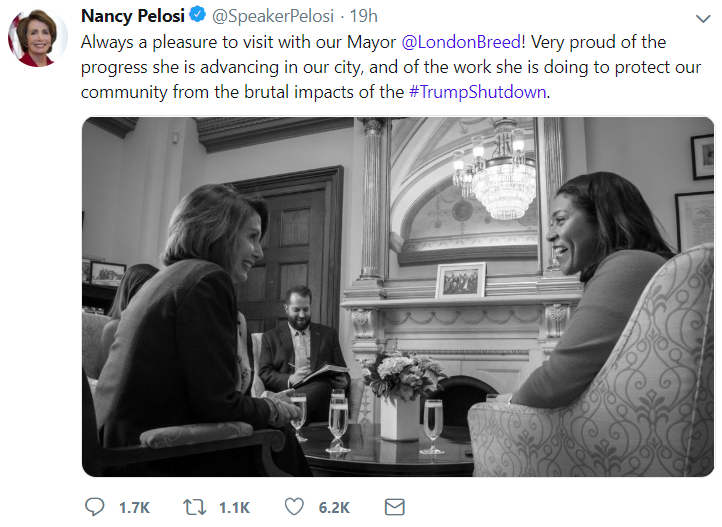 My office provided assistance on a complex case for a constituent receiving disability benefits from the Social Security Administration (SSA). Our office was contacted because the constituent was notified that his financial benefits were being discontinued due to assets totaling more than $2,000 because his previous partner many years ago placed properties in his name without his knowledge, which was flagged by SSA. This placed an extreme hardship on him, as he could no longer afford to pay his rent in a secure living arrangement and has multiple serious disabilities. Therefore, my office contacted SSA on his behalf, and was able to resolve the issue to continue his benefits. In addition to this assistance, my office also successfully connected him with local referrals to help subsidize his monthly expenses.
  Caseworkers in my San Francisco office work to address any problems or concerns you may have with a federal government agency. To submit a Casework Authorization Form, please visit my website.
Please feel free to forward this information to your family and friends. To learn more about these efforts, to express your views, or to sign up for email updates, please visit my website. I am also on Twitter at http://twitter.com/NancyPelosi.
 


Sincerely,

Member of Congress