Failure of Trickle Down Economics
Poverty in America is a searing challenge to the conscience of our country. How can it be that in the wealthiest nation on earth, 1 in 5 children live in poverty and 1 in 4 children go to sleep hungry? How can it be that in the land of the American Dream, so many of our fellow Americans are stuck – so many of our fellow Americans are struggling? 

This week, House Democrats convened a hearing called "The Failure of Trickle Down Economics in the War on Poverty," where we discussed the need for Congress to confront poverty in America with fresh eyes and new thinking. We heard from a diverse panel of witnesses, including Maverick Bishop from San Francisco. After hearing Maverick's moving story of overcoming domestic violence and homelessness at an event in San Francisco, I invited him to share his journey with my colleagues. Through the YMCA of San Francisco's Reach and Rise mentoring program, Maverick graduated high school, secured stable housing and is now expected to become a journeyman carpenter later this year. His courageous story demonstrates the importance of community programs that work to empower young people seeking to rise out of poverty and into the middle class.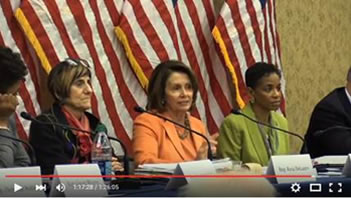 Congresswoman Nancy Pelosi listens to testimony at the Steering & Policy Committee hearing entitled 'The Failure of                                                               Trickle Down Economics in the War on Poverty'.

We need a new war on poverty, not a war on the poor. There can be no question: the trickle down agenda that is embraced by House Republicans has hurt, not helped struggling families. House Democrats are committed to supporting initiatives like Head Start, Medicaid, Medicare and SNAP that benefit the most vulnerable Americans – while the GOP continues to propose radical budgets that increase poverty and erode our nation's promise of basic economic security for all Americans. It is long past time for Congress to come together on policies that lift struggling families out of poverty – not punish them.

Equal Pay Day 
This week, we recognized Equal Pay Day – which marks the 103 extra days a woman would have to work to match the annual earnings of a man, since a woman earns on average only 79 cents to his dollar. In the United States of America, in 2016, women still face a pay gap that costs them an average of $430,480 by the time they turn 65. Democrats believe we must act to make real the promise of paycheck fairness for all America's working women and their families. The first bill President Obama signed into law, the landmark Lilly Ledbetter Fair Pay Act, advanced our progress toward fair wages for women. Now, Congress must pass the Paycheck Fairness Act: a bill cosponsored by every single House Democrat, and a pillar of our 'When Women Succeed, America Succeeds' economic agenda for women and families. 
 
Nancy Pelosi 
@NancyPelosi

---

To follow Congresswoman Pelosi on twitter, please click here

.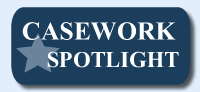 My office recently assisted a constituent whose sister had been denied a tourist visa to visit her and her husband for a two week visit. The constituent's sister lives in Vietnam, and she had previously traveled to the U.S. several years ago. Because of her past experience with the U.S. Embassy, she did not foresee any difficulties obtaining a new visa. After the denial, she reapplied for the visa, and with the help of my staff, she communicated to the Embassy her strong ties to Vietnam and her intentions of traveling to the U.S. to visit her sister. After considerable deliberation, the U.S. Embassy granted my constituent's sister a tourist visa. 

Caseworkers in my San Francisco office work to address any problems or concerns you may have with a federal government agency. To submit a Casework Authorization Form, please visit my website.
Please feel free to forward this information to your family and friends. To learn more about these efforts, to express your views, or to sign up for email updates, please visit my website. I am also on Twitter at http://twitter.com/NancyPelosi.
 


Sincerely,

Member of Congress