Enough
Gun Violence Prevention Now
This week, thousands of courageous young people walked out of their schools to demand action to end gun violence.  Their eloquence and perseverance are an inspiration to us all. 
The families and students suffering from the heartbreak of gun violence deserve real leadership, not a White House that cravenly tiptoes around the NRA. It is disappointing to see President Trump lose sight of the commonsense, bipartisan gun violence prevention measures that could save lives across America.
There is overwhelming bipartisan support across the country for action to prevent gun violence.  Democrats will continue to press for bipartisan progress with strengthened background checks, gun violence restraining orders and other commonsense measures to reduce the epidemic of gun violence in our nation.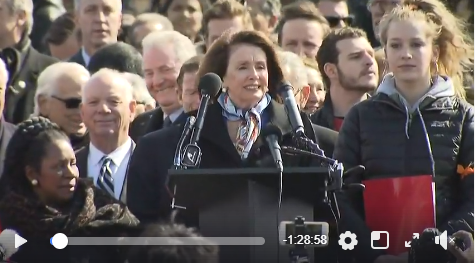 Congresswoman Nancy Pelosi joined students in front of the U.S. Capitol for a walkout to demand commonsense gun violence prevention.  
Follow The Facts
The decision to shut down the Intelligence Committee's investigation is part of a disturbing pattern by the House GOP to obstruct and interfere with investigations into the Trump-Russia scandal.  Speaker Ryan has allowed the House Intelligence Committee to make a mockery not only of the investigation but the Committee itself. 
Multiple Americans and Russians have been indicted or pled guilty in the Trump-Russia scandal.  Every day, the extent of Russian meddling in our democracy becomes clearer, leaving us with more unanswered questions.  
President Trump and House Republicans have abandoned their oath to support and defend the Constitution and protect the American people.  Democrats will continue to take real, immediate action to secure our democracy and champion American security, values, and interests.
 

2020 International AIDS Conference

This week, the International AIDS Society announced they will be hosting the 23rd International AIDS Conference in San Francisco and Oakland, California. This conference will coincide with the 30th anniversary of the 1990 AIDS Conference, which was held in the Bay Area at the height of the U.S. epidemic. 

 

It is fitting and deeply inspiring that advocates, researchers and survivors will return to the Bay Area for the 2020 International AIDS Conference. San Francisco has long been the center of HIV/AIDS research and advocacy, and a trailblazing global leader in public health response, innovative prevention strategy and community-based models of care.  

 

 

Our city will never forget what it took to come from those darkest times when many of us were going to two funerals a day, to a time when we are celebrating weddings and retirements of people with HIV.

 

 
  My office recently assisted a constituent who had been experiencing issues with the San Francisco Veterans Affairs Medical Center (SFVAMC). His wife had contacted our office due to him being in the late stages of Alzheimer's disease, and that his current hospital and Medicare wanted him moved. Upon contacting the Department of Veterans Affairs (VA), she was told that there was no space for him within a 90 mile radius, with several hospitals having a long waiting list. Therefore, my office contacted SFVAMC on his behalf and conveyed the details of his situation. As a result, SFVAMC informed my office that they would be able to accept him into one of their Community Living Centers (CLC). He will now continue to receive quality medical care and attention. 

Caseworkers in my San Francisco office work to address any problems or concerns you may have with a federal government agency. To submit a Casework Authorization Form, please visit my website.
Please feel free to forward this information to your family and friends. To learn more about these efforts, to express your views, or to sign up for email updates, please visit my website. I am also on Twitter at http://twitter.com/NancyPelosi.
 


Sincerely,

Member of Congress