End the Shutdown
#TrumpShutdown 
This senseless shutdown is now putting 800,000 workers at risk of losing their paychecks, with the health, safety and well-being of millions more under threat.  President Trump has the power to stop hurting the country by re-opening the government and ending the Trump Shutdown.  Instead, he is holding the American people hostage to his ineffective, expensive wall.
In the face of the President's bitter obstruction, House Democrats passed individual, bipartisan funding bills to re-open government and restore stability in people's lives, but the President continues to petulantly promise to keep government shut down for 'months or years' until he gets his wall.
Democrats support smart, effective border security solutions – new technology to scan for drugs and detect unauthorized crossings, better infrastructure at ports of entry and more personnel.  But we do not support wasting billions of taxpayer dollars on an ineffective and expensive border wall that Mexico was supposed to pay for.
The President must end his fear-mongering and fabrications, stop holding the health, safety and paychecks of the American people hostage, and re-open government immediately.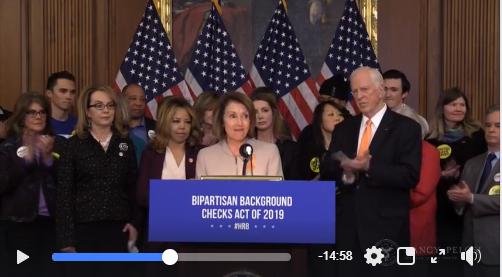 Congresswoman Pelosi was joined by joined by former Congresswoman Gabby Giffords to introduce HR8, the Bipartisan Background Checks Act of 2019, eight years after the Tucson shooting.

My office recently assisted a veteran regarding his disability benefits claim with the Department of Veterans Affairs (VA).  He had contacted our office because his claim was reopened after an initial denial in 2017, but he had not received any updates. Our office contacted the VA on his behalf and conveyed the details of his situation.  As a result, the VA rendered a decision in favor of my constituent, awarded him a $29,000 retroactive payment, and resumed his monthly benefits.

 
Caseworkers in my San Francisco office work to address any problems or concerns you may have with a federal government agency. To submit a Casework Authorization Form, please 
visit
 my website.
Please feel free to forward this information to your family and friends. To learn more about these efforts, to express your views, or to sign up for email updates, please visit my website. I am also on Twitter at http://twitter.com/NancyPelosi.
 


Sincerely,

Member of Congress