Empty 'suits
Feckless
Once again, House Republicans are trying to divert attention away from their spectacular dysfunction and obstruction. Rather than working to address any of the urgent issues facing our nation, they have decided to waste taxpayer dollars on another hypocritical, partisan and preposterous lawsuit against the President.

This time, Speaker Boehner is claiming an abuse of the same executive powers they so strongly supported for President George W. Bush – executive orders that President Obama has used less frequently than all but one of the other presidents since World War II:
President Reagan had 381 executive orders;
President George W. Bush had 291;
President Obama has only 182.
Speaker Boehner is now planning to pour taxpayer dollars into a lawsuit against the same practice he cheered when President Bush used executive orders to circumvent Congress, including when he acted to restrict embryonic stem cell research. In the final days of President Bush's second term, he even wrote to the President asking him to use an executive order to exempt a historic steamboat from safety regulations after Congress opted not to do so. 

To follow Congresswoman Nancy Pelosi on twitter, please click here.
Not My Boss' Business
The Supreme Court's decision in Hobby Lobby was a gross assault on workers' rights and women's health that singled out women's health for discrimination. For-profit corporations must not be allowed to pick and choose which laws to obey or which essential health care services to insure.

Health care decisions should be made by a woman in consultation with her family, her faith and her doctor – not by her boss, not by insurers, and not by Washington politicians. That is why I was proud to cosponsor H.R. 5051, a bill that will ensure that no employee, man or woman, can be denied access to critical health services because of an employer's beliefs.

Congress should act immediately to take up this legislation, and restore the right of workers not to have their health care limited by their bosses' beliefs. It's just not their bosses' business.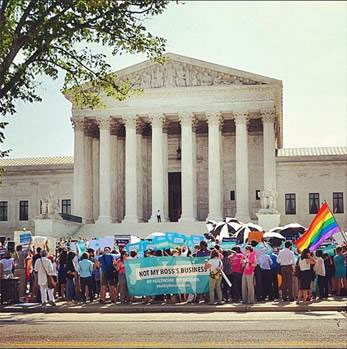 The Supreme Court set a dangerous precedent that could permit for-profit corporations to pick and choose which laws to obey. No employer should have the right to limit the health care choices of its employees, male or female. To follow Congresswoman Pelosi on Instagram, please click here.
Please feel free to forward this information to your family and friends. To learn more about these efforts, to express your views, or to sign up for email updates, please visit my website. I am also on Twitter at http://twitter.com/NancyPelosi.
 


Sincerely,

Member of Congress